Preservings – No 17 – December 2000
by Katharina Kehler Bergen
Steinbach, MB.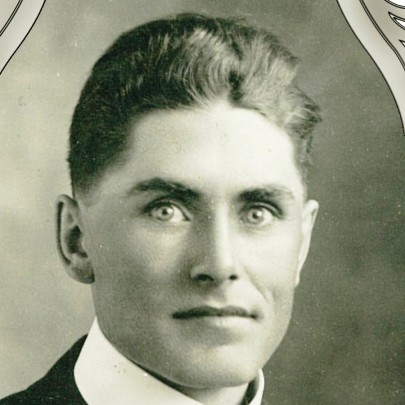 Introduction.
My father, Peter Schulz Kehler was born in Ebenfeld on January 1, 1896.
His father was Jacob K. (Berliner) Kehler (1863-1923), his mother was Elizabeth Schulz Kehler (1866-1943).
Peter was the eighth child in a family of 14 children. Two brothers and one sister predeceased him in infancy. His siblings were born between 1885 -1904. Growing to adulthood were Maria, Jacob, Gerhard, Aron, Johan, then Peter, Susanna, David, Heinrich, Elizabeth and Cornelius. Peter's birth place was the farm located just north of the Mitchell ball park.
Peter was a small baby weighing a mere three and one-half pounds, so he was told. Incubators were unheard of but with intuition and ingenuity, bricks were warmed in the oven to surround him with warmth. He survived and grew to be a slim, dapper-looking man in his younger years. He was not very tall and later filled out to be robust in stature.
Early Years.
Peter was a quick learner. Early on he discovered music. At the age of four his Aunt Maria Friesen, or "Mitchimum", as she was affectionately called by her nieces and nephews, gave him a harmonica which he quickly mastered. Aunt Maria lived at the west end of Hochfeld about four miles from Ebenfeld. She was a sister to Peter's mother. Her first husband was Rev. David Friesen and second husband was Jacob Enns.
With so many small children in the Kehler household he became as an adopted son in the Friesen home from the age of four to ten. He had happy times here. Mitchimum taught him rhymes such as the following which he in turn taught all his children.
"Haesgen sasz in die Grube, sasz und schlief; Armes Haesgen, bist du krank; das du nicht mehr huepfen kannst? Haesgen hupf, Haesgen Hupf, Haesgen hupf!"
Back in the early 1900s small boys wore trousers with a flap or "Luck" at the seat. Peter remembers a Mr. Johan Doerksen from Reinland telling him how he had been lying on the table with his "Luck" open, playing an auto-harp.
At the age of four Peter played "Wenn der Heiland, wenn der Heiland" for his grandfather Gerhard L. Kehler who praised him and rewarded him with ten cents. He also played for Mrs. Unger, an old lady who also promised 10 cents if he would come get it. However, he was bashful and never did receive the money.
Music Interest.
This early introduction to music sparked an interest in other instruments. He could pick up the violin, Jewish harp, zither, mandolin, flute, organ, clarinet, and harmonica. His favourite remained the violin which he kept up, however he admits that for the most part his use of the violin had not been Christ honouring. His parents had a gramophone. There he learned to appreciate classical music. Some of the pieces he learned to play were "Ave Maria", Brahm's "Wiegenlied" and part of "Meditation from Thais, Messenet." One particular favourite piece which he played often was part of "Intermezzo `Cavalleria Ruticona' mascagni".
Occasionally he would entertain his family with a swinging waltz or lively polka number. When he wanted to be funny, he would play "Pop goes the Weasel", "Yankee Doodle", or a little tune that went "Ich kann spielen auf meine Violine, Vio – Vio – Violine, Vio – Vio – Violine." As he practised new tunes the children could learn and sing along.
Schooling
School was in session during the winter months. Peter started at nine years of age. His first teacher was Cornelius Fast of Steinbach. The second winter in Hochfeld he was tutored by Rev. Heinrich Friesen: four winters in Ebenfeld with Gerhard P. Schroeder of Eigengrund.
Two days before his death, teacher Gerhard Schroeder told Peter that he had been his best student. This inspired him to further his education. He attended the Steinbach High School which was situated near the Heinrich Reimer store. His teachers were principal Abram P. Friesen, Jacob G. Kornelsen and Gerhard G. Kornelsen. He finished his grade nine at 17 years of age.
Youth.
Peter remembers the village of Hochfeld lay out as follows. Johan Hiebert, Peter Hiebert, the school, Bernard Wiebe, widower Jacob Kehler, Peter Gerbrandt, Gerhard Kehler, Peter Harder, and Rev. David Friesen.
The village had hired a cow herdsman by the name of Mr. Hemming. He was a German man who lived at the end of the village. In the spring when the weather warmed sufficiently the calves were let out and the young boys and girls were given the job of herding them. Some of the other herders were: Peter Doerksen, Johan L. Wiebe, Cornelius P. Hiebert, David P. Hiebert, Margaretha Kehler, Helena Harder, Peter K. Gerbrand, and Gerhard U. Kehler.
Peter remained small for his age. At 17 he was the size of the average 14-year-old. He, along with brothers Johan and David loved to ride the horses. Their father got several unbroken ones which they then trained. They took great plea-sure in showing off riding calves and steers. When Peter was 16 he placed second out of ten riders at the Giroux Exhibition. His father was a lover of horses and owned one that could run like the wind.
Peter remembers that before they had a buggy, all they had was a sulky. He was lying at their feet when the horse seemed to take off. His mother was terrified, Peter got knocked about but still confident that everything was fine with his strong father at the reins.
Work.
Peter started working away from home at 17-18 years of age. He started with wood cutting, moving on to working with tractors, mechanics as well as threshing. One summer he worked for an Englishman west of Niverville who had a 600-acre farm. Here he cultivated with six mules and two horses. He also had the opportunity to work with a tractor that looked like a steam engine. He made $60.00 per month.
In 1920 Peter bought his first car, a 1918 Ford Runabout for $475.00 from Heinrich Braunstein of Niverville. In the fall of 1921 he went to Herbert, Sask., to work with the threshing crews. At that time, the Trans-Canada Highway was being constructed in certain areas. He worked at Bernard W. Funks, and Johan Funks at Main Centre, Sask., for $7.00 per day as an engineer tending the fire box.
He made his home at in-laws Heinrich S. and Tina Penner (Tina's first husband Abram S. Penner had been the husband of Peter's oldest sister Maria Kehler). Other relatives in the area were three uncles on his mothers' side, Rev. Johan H. Schulz, Peter H. Schulz, and David H. Schulz.
In 1922, he bought a 1918 Model T one-ton truck. He started hauling cream to Winnipeg and expanded to hauling cattle, pigs, grain, and general freight. He had this truck for seven years. Peter and his brother Johan owned a garage in Niverville for a short time. No definite date has been established but it was before 1921.
Teaching Career.
During the winter months, Peter turned to teaching school for a total of nine years; two years at Reinland (Prefontaine); one at Eigengrund (Hanover) and six at Halbstadt (Shakespeare). In 1918-19 at Eigengrund he boarded at the Andreas P. Blatz residence where he met his future wife Katharina (Tina Blatz). Two other dates recorded are 1921 and 1923 both at Halbstadt. Cornelius S. Stoesz's could give board and room during the week. Peter had inherited some of his father's talent at writing poetry. In 1965, he published a 52-page booklet of the writings of several people. Of interest are the poems by his father Jacob (Berliner) Kehler and by Peter himself.
He had beautiful handwriting and lovely old Gothic lettering which he drew and painted in Bibles, and hymn books.
For one of his students, Peter F. Doerksen, 88, of Woodhaven Manor, the Hochstadt school and his teacher holds special memories. He remembers the day the photograph of the students was taken. On the wall near the window were the school rules mounted in a frame. It started with a quote, "Dasz erste was du tust wenn zur Schule kommst, Bette gute morgen dir Lehrer, fuer euch zu sorgen…"
Textbooks used to learn reading were the New Testament, Bible, and Catechism. They also had Bible stories and learned arithmetic.
Teacher Kehler had a hard rubber eraser which was available when someone made mistakes. He had a good straight aim and when someone wasn't busy studying, the eraser would come flying across the room. Peter Doerksen remembers ducking and the person behind him got hit. When some of the boys misbehaved they had to go to the bush across the road and cut their own rod.
Playtime included baseball, tag, and football. Being taught to lasso proved very helpful in later years when he hauled cattle in a transfer business. The teacher took great pride when young Peter Doerksen took down the older, bigger boys in wrestling matches.
One form of punishment nobody enjoyed was to stand in the front of the room with a black board hanging by a cord around the neck. On the board was a drawing of a mule. After awhile the cord would dig in the neck from the weight of it. Despite this type of punishment, he was well liked as a teacher.
Marriage.
Peter married Katharina (Tina) Blatz, daughter of Andreas P. and Barbara Blatz of Eigengrund on August 12, 1923. The wedding was held at the home of the bride. His father had just passed away on June 11,1923, so the newlyweds moved in with his mother while he taught at Halbstadt. They also lived at the Andreas Blatz's for awhile.
In the fall of 1924 he bought 80 acres of land at Schönfeld near Rosengard for $500.00. They lived here for one winter. Their first son Andreas (1924) was born here. In the spring of 1925 they moved to Blumengard, living at Heinrich K. Neufeld's place, who was still single at the time. During the year they lived here, daughter Maria 1925-1980 was born. Here Peter could obtain some livestock, two horses, some beef cattle and hogs.
General Store.
In the spring of 1926, Peter bought an acre of land in Blumengard, from Diedrich Harder (location 5 miles north and 5 miles west of Steinbach). He built a 16' by 40' store with two room living quarters at the rear.
With Peter operating the transfer business, running the store became Katharina's responsibility. In addition, she took care of the live-stock, garden, sewing, cooking, milking, and taking care of the children. The shed at the back housed butchering hogs as well as gas and oil.
The living quarters became increasingly cramped as more children came. Heinrich-1927, Helena-1928, Aganetha-1930, Peter-1931, Wilhelm – 1933, and Eva -1934 were born here.
As the depression of the 1930's deepened they were no longer able to extend credit to their customers and had to close the store. Much of this debt remained unpaid.
During the years at Blumengard, church services were held in the private school house. Here he became a Vorsänger or song leader, this school was later moved to Rosengard and used as a church till 1958.
The oldest children started their education at the Moray school. Here the teacher Andreas Sobering and his wife started a Sunday School. Mrs. Sobering taught the youngest children in their living quarters while Mr. Sobering had the middle class and Peter taught the older ones.
Bergthal Farm, 1935.
Katharina's father Andreas P. Blatz died on Oct. 16, 1934. Six months later, April 19, 1935, her mother Barbara (Stoesz) Blatz died.
Katharina inherited some money from her parents' estate. With some cash on hand they could make a down payment on a 320-acre farm from Mrs. Jacob Rempel in Bergthal, 2 1/2 miles north of Mitchell, NW17-7-6E.
The agreed price was $20 per acre or $6400 with machinery. They paid down $1000 with 4% interest on the balance. They started with four horses, 50 hens, eight cows and some pigs. The first year they left most of the land in summer fallow. What they did seed, yielded one box car full of rye which sold for 28 cents per bushel.
The second year was very dry. The yield was not as good but the prices were better. Things began to improve so that the farm was paid off in 10 years.
Between the garden and the driveway just west of a summer kitchen were several trees. In this area are about 11 graves one of which is the burial site of Jacob (August 7, 1937), stillborn son of Peter and Katharina. Another three daughters–Anna-1936, Katharina-1938, and Frieda-1941–joined the family here.
There were good neighbours here. The closest ones were Henry and Nettie Mueller to the north. They exchanged their honey for milk since they didn't have a cow. To the northwest were the Henry R. Klippensteins who moved to Paraguay in 1948. To the west were the Abram U. Brandt's, Peter K. Dueck's and Cornelius S. Unger's. These farmers took turns picking up the milk cans and taking them to the cheese factory.
Livestock was built up to about 35 cattle up to 500 hens and 5 sows and their offspring. There 4 to 6 horses–heavy work horses, as well as riding horses. For many years there was a Shetland pony trained for the younger children.
Geese and sheep allowed Katharina to build her stock of wool comforters, feather pillows and comforters for her large family. Here the children went to the Twin Creek School where Peter was a trustee for one year.
Ordination, 1948.
Having served as song leader and Sunday school teacher at Blumengard, Peter found himself again serving as a song leader in the Chortitz church.
In 1948 with the exodus to Paraguay, more ministers were needed. Peter, along with Abram F. Kehler were chosen by lot, just as in Bible times. This method is still being used in the Chortitzer Mennonite Conference.
Never in all its days had a Model A come down the narrow country road at such a snail's pace. The lot had fallen on him.
Among daughter Maria Kehler Isaac's (1925-80) belongings was found a paper on which she had recorded her feelings at the time:
"A day I so well remember is when Aaron and myself went to Cash & Carry Grocery store to buy a loaf of bread. Aaron stayed in the truck while I went into the store. As Mr. Reimer (the store clerk) got the bread ready for me, he told me that my Dad had been elected as Pastor that day. I could not believe my ears, so asked him if he knew that for sure. He was very sure. It really struck me hard, and I fainted in the store. When I did come around, I went to our truck and told Aaron. We went home to mother and dad. I ran into the summer kitchen. There was my mother crying. I asked Mom `Is true what people are telling me?'". "She answered `YES'."  The family had not been told. My sister Helen said that is why everything is so different in our house today.

I ran upstairs to see Dad. I can still see the sweat drops on his forehead. I felt so sorry for him. Teaching God's Word to the public seemed to be a very heavy load put on Dad's shoulders. Dad did not have any Bible schooling.

But our tender loving God took over. He was Dad's comforter in times of need, teacher in times of confusion. God was the leader, He guided, directed and corrected, helping Dad become a stronger Christian and giving power to witness to others,  Acts 1:8.
Both Peter and Abram Kehler were ordained on January 16,1949. In 1949 or 1950 the two of them were in a delegation that went to Riverton area to look at land. There was some interest in an exodus to the Interlake by some Chortitzer members. However, this move did not materialize.
His last public function that he spoke at was the Golden Anniversary of Mr. and Mrs. George U. Kehler
Off the Farm.
One by one the boys left home to seek employment elsewhere. Unable to carry on by himself he sold the farm in 1954. Half of the farm went to Heinrich P. Brandt and the other 160 acres were sold to Peter B. Reimer all for $27,000. An auction sale took place and the family moved to a four-acre lot at 112 Mill Street (1st Street) bought from a Mrs. Derksen. There was a barn to house a cow, butchering hogs and hens, providing milk and eggs. Some of the neighbours took advantage of these commodities. A large raspberry patch brought some income. Peter had a small garden tractor. He was kept busy cutting weeds and working gardens. He loved children and soon found that some of the neighbourhood children would follow him around hoping to get a ride in the tractor or be lucky enough to get a treat.
Trip to Paraguay.
In 1957 Peter was still enjoying good health. He longed to see friends, relatives, and former school pupils who immigrated to Paraguay in 1926-27 and 1948. He flew to South America and stayed for three months. He visited schools, mission stations, a Bible school, leper station and churches. He had the opportunity to preach to the Linqua Indians through an interpreter. He took hundreds of slides which he showed upon his return. Gifts that were collected here were sent to the Leprosy Station at Kilometre 81, East Paraguay.
The night of his return was to be "Family Night". Word leaked out as one of the boys had gone to the Esso Station and was told to come home. Soon everyone knew that Rev. Kehler was back from his travels. There was a lot of merry making and rejoicing on Mill Street that night. Peter however was experiencing a problem as his voice gave way with all the speaking in Paraguay, and now retelling his experiences over and over.
Steinbach to Mitchell.
In 1963 Peter underwent major lung surgery at which time it was discovered he had a weak heart. It was then that he began writing his memoirs about himself and his father. Unable to look after the large parcel of land in Steinbach he traded for a house and lot at 109 Hwy 52 West in Mitchell.
He made countless visitations both in private homes and hospitals. His cheery manner could bring a smile to the grumpiest person. He was a "people person" who loved to greet people at the post office or H.W. Reimer store or have a Pepsi with his nephews at the Husky Station. No matter what age or what station in life he had a friendly way with everyone and expected the same from his family.
In 1966 diabetes was discovered and as his health failed the doctor advised him to give up driving. This he found very difficult.
Death.
On February 11, 1968 death came suddenly. After visiting with friends that Sunday he went to sleep never to waken. God knew what was best for him.
Although he would have dearly loved to enjoy good health and his family, he would not have wanted to be restricted to a wheelchair or to be dependant on others for his wellbeing. His love for the children in the neighbourhood was evident when the school was closed the morning of the funeral. His body was brought to the house and the teacher brought all the children to see him once more.
The funeral service in the Steinbach Chortitzer Church saw about 1100 people come. The church was filed to overflowing with the sanctuary of the Steinbach Mennonite Church (now Christian Fellowship) being filled as well. Mr. Abram Funk pulled a wire between the churches so the people could hear the service. Those wishing to come for viewing had to walk the block and walk back to their cars.
He was buried at the Steinbach Memorial Cemetery. One of the poems found in his book-let describes his feelings about his impending home-going.
1.So lebt denn wohl, du stilles Haus, Ich zieh betrubt, von dir hinaus,
So lebt denn wohl, ich musz nun fort, Von dir, du sehr, geliebter Ort.
2.So lebt denn wohl, ihr Freunde ihr, Ich ziehe traurig, fort von hiker,
Und find ich einst, ein groszes Glueck, Dann denk ich gern an euch zurueck.
Family Memories.
Daughter Helen Kehler Unger remembers:
Thinking back to my childhood I think our father was wise in that he brought us up where he did. He taught us to work but also to enjoy life. I was brought up at a time when there was no milking machine and combine at our place. The girls in our family out numbered the boys. So, when father was short on man power, we had to help in whatever was being done. At an early age, anyone who could handle a pitchfork had to be on the field to stook the grain or clover that the boys had cut.
After our years of school were done usually at 14 or 15 you helped with the milking by hand. When threshing time came, there was grain to shovel by hand. When it came time to cut the green feed and clover sheaves and straw to feed the cows, the sheaves were brought to the feed grinder (Hacksel Machine) by the boys. I unloaded and father guided the sheaves to the cutting blades. All cooking was done on a wood burning stove so I helped when the wood was being cut into stove length. As children, we didn't need any T.V. for entertainment.
There was a creek near the barn. In the late '30s father built a row boat. One might be holding the baby, another one or two would row, and if the boat had a leak, another on would bail out the water. There was a spot in the creek nearby which made a perfect swimming hole and got plenty of use. The few acres of bush land grew Saskatoon's, choke cherries and wild plums which would be turned into pies and jam.
Dad played the violin and took us to sing for the elderly neighbours, or took us to other school's Christmas programs. We went to singing hour at the Mitchell school. In the house after chores were done in the evening you would soon see the smallest one on his lap and playing catch the star in the Eaton's catalogue or giving hugs when he hadn't shaved.
When he became a minister in 1949 and had to go to Austin or other places a distance away to bring the Sunday morning message, he would leave home on Saturday and stay overnight. It was then that he had to put all his trust in his family. The cows were fed and milked and the barn cleaned. There was a time to work but also a time to play.
Daughter Anne Kehler Doerksen remembers:
Father took very good care of his draft horses as well as the big driving pair. These served him well both on the farm and in his ministry. During the stormy winter months, he put feed for the horses in a little caboose-type sleigh and off he'd go to preach. Sometimes he'd come home in the afternoon on a Sunday, and mention in passing that he had not only preached the word, but had to act as song leader as well. And sometimes the numbers in attendances had been very small.
The dairy cows provided for the travelling expenses as there was no allowances or credit cards allowed for the "men of the cloth". The car had to be in good mechanical shape. Father was not a patient man. He liked to drive fast, not recklessly, but he did not like to be last. No doubt the Model A or the Volkswagen Bug that he drove for years, would have testified to the fact that they knew who was behind the wheel, had they been able to speak.
His desk was well used as he sat at it, pouring over scripture, often far into the night. When weddings or funerals were in the offing, the hours at his desk lengthened.
This desk was passed on to son-in-law Rev. Cornie G. Peters who is still using it.
Daughter Frieda Kehler Neufeld remembers:
Farming was a way of life for dad for many years. I can remember only a few times when he was very worried. In 1952 there was an outbreak of foot and mouth disease on the Alberta/B.C. border. Whole herds were destroyed to contain it. Dad was very afraid someone would smuggle stock out of the quarantined area.
The time came for mandatory testing of cattle. As one barn after another was emptied Dad became very worried. "I believe I have a healthy herd. I have been careful where I bought my livestock," he would say.
The day came that they tested. A week later the results were in. All his cattle were alright except one heifer hadn't tested as well as it should have. He was not required to ship it, but that heifer made a speedy exit from the barn shortly after.
He was also strict with the vet who came to test the cow after we moved to Steinbach. I remember him telling someone he had not let the vet into the barn without disinfecting his boots. He did not want him tracking contamination from other barns.
Broki Maelk and other things. Dad was a "meat and potatoes man". Not particularly fond of pasta dishes. After spending three or four days on the road, eating at various places he came home to find Mother had just fixed a pasta meal. That did it! It seemed that at each home he had supper he had been graciously served pasta!
A house rule was "If you don't like what's on the table, have a bowl of Broki Maelk" (pieces of bread soaked in bowl of milk). You can be sure dad had his bowl full too.
When the opportunity presented itself, Dad would like to sneak up behind one of us girls and pull just one hair. Our instant reaction brought him much pleasure.
Dad was good at building scaled-down furniture. We had a folding ironing board just like mothers. There was a table and chairs, cup-board, doll bed and doll lawn swing.
Dad didn't have a problem doing things for himself. He could fry up an egg when he came home late. He was also handy with needle and thread sewing on buttons. On occasion, he would be seen sitting at the treadle machine in his underwear sewing up a ripped seam in his pants.
Dad liked to claim the latest reading material in a novel way. He would come silently and grab the paper on the top with thumb and forefinger, keep up the pressure until you just had to let go. When he wanted that section, he got it!
In addition to the Steinbach Post and Carillon News he subscribed to farm papers such as Free Press Weekly. He liked to read King of the Mounties in the comic section.
One little puppy got in the way of a horse's hoof. One of the boys buried it under the willow by the toilet marking it with a small cross. This was visible from both the house and summer kitchen table. Visitors would ask about the cross and on several occasions Dad would tell people how that embarrassed him. It was amusing since he could have easily pulled it out and chucked it over the fence. Sometimes it appeared he had a short memory. Like when he would bring home one small chocolate bar from the Co-op store and plunk it down on the table. The older girls were disgusted, wondering whether Dad had forgotten how many children he had as they tried to divide up one chocolate bar.
A small bag of candy easily fit on the wide ledge above the door. Then he would demand his kiss before he gave us any.
When we were sick or complaining of pain or cut, he would come and put finger to tongue and say, "I'll make it all better".
This may have amused us when we were small, but as we got older we would yell, "Get away with your germs" and run feigning horror.
Christmas mornings were wonderful. If the younger children slept in a little too late, he would wake us up and then race for the stairs. Sometimes he would swing a leg over the banister and slide down. There were times when he nearly got pushed down the steps in our effort to get to the gifts on the dining room table first.
This dining room table became his short cut when several children would gang up on him and chase him around the house, onto the benches, along the walls and down again. Mother would scold Dad for setting such a bad example.
The connecting doors, hall way, dining and living room also were great for tag. However, there was a coal heater jutting into the living room that was kept stoked in the wintertime. With Dad, hot on our heels we circled the area much to Mother's displeasure. She would mutter darkly about upsetting the stove and getting burned and then remove herself from the scene.
He had a bad habit of coming in from the barn, and keeping on his barn boots. He would go through the dining and living rooms and look out of the window at the barn. This did not sit well with whoever was washing the floors.
In later years, he got great pleasure from honking and driving past us as we were walking home from work.
Rich Heritage.
In reading the stories about our grandparents and fathers' memoirs and remembering our experiences with him we have been truly blessed with a rich heritage. It is one that had its serious side but also one filled with love and laughter.
Father's inscription on his tombstone, references 2 Timothy 4:7, "He fought the good fight, he finished the course, he kept the faith".