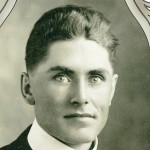 Peter S. Kehler: entrepreneur and minister; born 1 January 1896 in Ebenfeld, Manitoba, to Jacob K. and Elisabeth H. (Schultz) Kehler, as the eighth of 14 children in the family.
On 12 August 1923, he married Katharina Blatz (1900-1991) in Eigengrund (later called Hanover), Manitoba. The couple had 12 children, one of whom died young. Peter died on 11 February 1968 in Mitchell, Manitoba. Because the family was so large, he lived with an aunt and uncle from the age of four until he was ten years old. While he was there, he learned how to play the harmonica, sparking a lifelong interest in music. Later in life, he learned to play a variety of instruments, including the violin, clarinet, and organ.
Peter received his schooling through classes in Steinbach and tutoring in Hochfeld and Ebeneld before he completed his high school education in Steinbach.
Working away from home began for Peter S. Kehler when he was 17 years old and he began a job as a woodcutter and mechanic for nearby farmers. He also worked with threshing crews and bought a truck to haul cream, grain, and animals to Winnipeg for sale. For a short time, he and his brother operated a garage in Niverville.
For nine years Peter was a teacher in Reinland, Eigengrund, and Halbstadt. During this time, he wrote poetry, collecting his and his father's poems into a booklet which was further enhanced with his emerging artistic talent, evidenced in the illuminated lettering.
On 12 August 1923, Peter S. Kehler married Katharina Blatz at her parents' home in Eigengrund, and the couple moved in with Peter's widowed mother. The next year, they lived in Schönfeld for a short time before moving to Blumengard, where they built a store that Katharina ran for many years.
In 1948 Peter was chosen by lot to serve as minister in the church in the Chortizer Mennonite Church, where he already served as song leader and Sunday school teacher for some time. He was ordained in January 1949 and continued to serve as a minister for many years.
Peter S. Kehler died on 11 February 1968 at his home in Mitchell, Manitoba.
Preservings No. 17 (December 2000): 108-113.