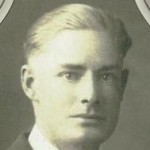 On Saturday, June 18, 1983 at the Bethesda Hospital, Steinbach, Rev. Heinrich S. Kehler, aged 82 years, beloved husband of Agatha of Mitchell.
Rev. Kehler had been in the ministry for 20 years.
Funeral service was held Wednesday, June 22, 2pm  from the Chortitzer Mennonite Church in Steinbach with Rev. H.K Schellenberg and Rev. C.G. Peters officiating. Viewing was at the chapel Tuesday, June 21 from 6-8 pm and at the church prior to the service. Interment followed in the Steinbach cemetery.
Besides his wife Agatha, Mr. Kehler leaves to cherish his memory three daughters: Tina & Peter Neufeld, Betty & Ben Friesen, Mary & Roy Broesky; four sons: Neil & Agnes, Jake & Anne, Henry, Peter (Jim) & Carol; 27 grandchildren; 26 great-grand children; one sister Susan Wieler.
He was predeceased by two grandchildren, nine brothers and two sisters.