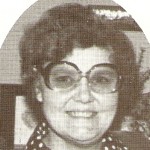 Mrs. Mary Isaac was born to Peter S and Katharina Kehler on the 28th day of November, 1925 in the Randolph district. She grew up and received her education in the Twin Creek School. She reached the age of 54 years, 7 months and 15 days.
On January 2, 1946 she joined in holy matrimony with Aaron Isaac. This union lasted 34 years, 6 months and 11 days, in which they shared the joys and sorrows of life.
On June 9, 1946, she was baptized upon the confession of her faith in Jesus Christ and was received into fellowship of the Chortitizer Mennonite Church of which she was still a faithful member at the time of her passing.
Mary was active in the church, Some of the things she really enjoyed was teaching a Sunday School class, leading the Kindergarten Department, singing and helping with the Wednesday night Children's Hour. She enjoyed singing and actively took part in the choir.
Mary had a great variety of interests which were evident in their home and in the homes of friends.
She had worked at a number of places of employment. Some of these were JHR Cafe, The Coffee Shop, and 23 years at 5¢ to $1 Store, and at the time of her passing at the Mennonite Village Museum. She loved meeting people and had made many friends through her work.
Some highlights in Mary's life were trips with Aaron together.
Visiting Ontario, British Columbia and 42 states in the USA.
Mary & Aaron worked in Jamaica for a couple of weeks in January 1974, and in March 1974, toured the Holy Land where the Lord once lived and taught.
In 1975, visited Jamaica, Haiti, Brazil, Bolivia, and met many friends in Paraguay.
Despite Mary's zeal to work she had not enjoyed very good health. She had undergone a number of operations and had suffered from asthma for most of her life. This affliction gradually grew worse over the years and she suffered much in this spring and summer. She was admitted to Bethesda Hospital for a few days in the latter part of June and was readmitted July 9th.
She was release from the hospital on Saturday July 12th. She enjoyed a pleasant afternoon and evening with some visitors but steadily grew weaker as the night wore on. Mary and Aaron enjoyed some sweet fellowship during the last sleepless night.  At approximately 5:13am, Sunday July 13 Aaron took her back to the hospital where the doctor and nurses struggled to revive her but failed. She was pronounced dead at 7am.
Mary had gone to be with her Lord whom she served and loved.
Mary leaves to mourn her sudden passing, her bereaved husband Aaron, her mother Mrs. Katharina Kehler, six sisters – Helen (Leonard) Unger, Nettie (Cornie) Peters, Eva (Jake) Schellenberg, Anne (Jake) Doerksen, Tina (Bill) Bergen, and Frieda (Ed) Neufeld; four brothers – Andy, Henry (Tillie), Pete (Helen), Bill (Tina); 44 nieces and nephews.
Mary was predeceased by her father Rev. Peter S Kehler on February 11, 1968, one brother Jacob in infancy and two nephews.
Funeral service will be held Thursday, July 17 at 2pm from the Chortitzer Mennonite Church, 479 Hanover Street, Steinbach with Rev. Peter Broesky and Rev. Bill Hildebrandt officiating. Interment to follow in the Steinbach Cemetery. Friends may pay their last respects at Stone-Klassen Funeral Chapel, 30 McKenzie Road West, Steinbach from 2-8 pm and at the church prior to the service.
Serving as pallbearers for the service will be: Peter Unger, Jim Kehler, Peter Peters, Larry Kehler, Andy Kehler and Bob Schellenberg.