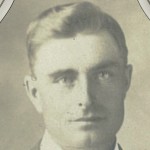 Jacob Schultz Kehler (Onkel Joakopp) was the first son and the second child of the Berliner Kehler family.
He was a quiet, dignified man who lacked the physical robustness and boisterous nature of his brothers. He was plagued with rheumatism most of his adult life and sometime bedridden, even in his prime. But he never shyed away from farm work when his condition was up to it.
He was always conscious of his role as the oldest son and not afraid to offer advice to his siblings – always mild and reasonable, accepted without offence.
Jacob married Helen Loepky-Kehler in Chortitz on November 7, 1907. Jacob passed away January 12, 1945.
The Berliner Clan – A History in Portraits