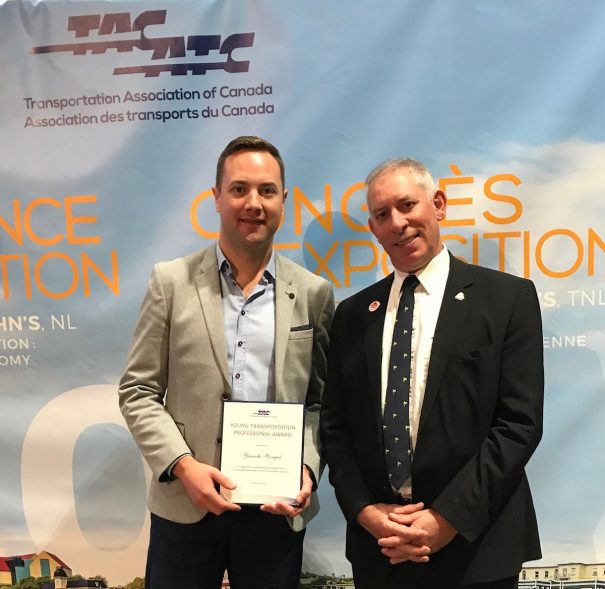 On September 25, 2017 at the Transportation Association of Canada's Conference & Exhibition in St. John's, NL, Garreth Rempel was awarded the 2017 Young Transportation Professional Award. Awarded annually, the TAC Young Transportation Professional Award recognizes an employee of a TAC member organization who has demonstrated outstanding accomplishments as a young professional in the transportation industry. Nominees must be no older than 35.
Garreth's outstanding professional development began as a student, when his academic achievements were recognized by the TAC Foundation, the Natural Sciences and Engineering Research Council of Canada, and the Institute of Transportation Engineers.
In his young career, Garreth has worked at and driven the rapid growth of MORR Transportation Consulting. Under his leadership, MORR developed TRAINFO, a system designed to reduce traffic delay and save lives at railway crossings. Garreth:
orchestrated research and development;
developed a concept of operations and a proof of concept which was supported by federal research funding; and
led the development and patent of a prototype.
In September 2016, TRAINFO launched its own company with Garreth as CEO. The Transportation Research Board recognized TRAINFO as one of four top ideas worldwide "that will revolutionize transportation as we know it" and it was awarded Best Application of a New Data Source.
Garreth is actively involved in TAC, TRB, ITS Canada, and ITE, among other organizations. He has published over 30 papers in refereed journals and at conferences. Garreth is an established professional, valued industry contributor and a respected leader in the transportation industry.
Congratulations to Dr. Garreth Rempel, TAC's 2017 Young Transportation Professional Award winner!
Garreth Rempel, a Berliner Kehler, is the Principal and Founding Partner of MORR Transportation Consulting Ltd. He resides in Winnipeg with his wife Giancarla and their three children. Garreth is the son of Lucille (Dueck) & Bob Rempel and grandson to (the late) Gustav & (the late) Betty (nee Kehler) Dueck, Steinbach, MB.