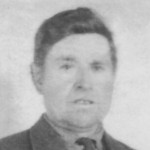 Jacob Kehler (known commonly as "Berliner" Kehler): farmer and community leader; born on 11 March 1863 in Russia to Gerhard and Susanna (Ketler) Kehler. He was the 10th of fifteen children in the family.
The family immigrated to Canada in 1875 when Jacob was 12 years old and settled in Hochfeld, a small village near Steinbach, Manitoba.
He was baptized on 2 June 1884, joining the Chortitzer Mennonite Church.
At age 13, Jacob obtained a job helping out with hauling and carrying jobs for Dr. Isaac  L. Warkentin (1845-1929), a popular lay doctor in Blumenhof. Later, he went to work for a Mager family in Winnipeg. Here he became fluent in English. Later in life, he was able to use his knowledge of Russian, Ukrainian, English, German, and Yiddish, especially in facilitating political events.
In April 1884, Jacob Kehler married Elisabeth Schultz, and the couple took the unusual step of setting up a house on a vacant school lot, where there was no village, about a half a mile east of Hochfeld. Not long after establishing their home, a friend asked Jacob what the place they were living was called. Remembering that he had passed through the great city of Berlin, Germany, on his way to Canada, jokingly he replied it was called "Berlin".  This was the start of the nickname which was used so extensively that many in the Manitoba East Reserve did not even know that his name was Jacob.
In 1891, the growing family moved to a farm at Ebenfeld, where Jacob began to build barns and buy livestock. To supplement his income, he took outside jobs, including one at a nearby sawmill and another driving herds of cattle to Winnipeg. Jacob "Berliner" Kehler worked in a variety of capacities, especially after his sons were old enough to help out on the farm. Besides his work as a translator, he helped in organizing political meetings, and he also served as the Municipal Councilor from 1906 to 1907. He worked as the government weed inspector, as well as helping with vaccinating local children against smallpox. Jacob worked briefly as a teacher, and he served as a Vorsänger (singing leader) for some time in the Choritzer Church. In his spare time, he wrote narrative poems, describing his life's experiences, such as receiving treatments for the cancer that eventually killed him. He published some of these writings in the Steinbach Post. Jacob's cancer eventually spread, and he died on 11 June 1923 in Ebenfeld, Manitoba. The Steinbach Post reported that it was a very large funeral with a procession of some 80 cars and over 500 people paying their final respects to this very popular man.  Preservings No. 14 (June 1999): 110-114.