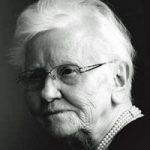 Katharina Kehler (nee Peters), 86, of Steinbach, MB, passed away Friday, February 15, 2019, at the Rest Haven Nursing Home, Steinbach, MB. Tina is survived by her husband William "Bill" Kehler, five daughters, two sons, and their families.
She was predeceased by one grandson.
Viewing will be on Thursday, February 21, 2019, at 7:00 p.m., with a devotional at 7:30 p.m., at Birchwood Funeral Chapel, Steinbach, MB.
The funeral will be held Friday, February 22, 2019, at 2:00 p.m., at the Steinbach CMC, 479 Hanover Street, Steinbach, MB., with viewing one hour prior to the service. Interment will take place at Heritage Cemetery, Steinbach, MB.