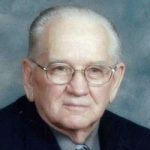 Peter H. Neufeld, age 92, of Steinbach, passed away peacefully with family by his side on Wednesday, June 27, 2018 at Bethesda Regional Health Centre, Steinbach, MB. Just 6 weeks short of his 70th wedding anniversary.
Peter H. Neufeld was born Dec. 5, 1925 at Neuhorst Village near Gretna Manitoba. He was baptized upon his confession of faith in 1948 at the Randolph CMC Church.
In 1948 he met the love of his love, Tina Kehler at a baseball game and by Aug. 12th of that year they were married.
He is survived and will be greatly missed by his wife Tina (nee Kehler), daughters: Linda & Norman Doell (of Steinbach), Lottie Harder (of Winkler), Elly Enns (of Steinbach); one son Murray & Joelle Neufeld (of La Broquerie), daughters Mathilda & John Fehr (of Steinbach), Carolyn Giesbrecht (of Winkler) and Sharon Penner (of Steinbach), 17 grandchildren and their spouses, 37 great grandchildren, and one sister-in-law Jessie Neufeld.
Peter H. Neufeld was predeceased by his parents, five brothers, three sisters, two sons-in-law (Harold Enns) (Peter J. Harder)and one grandson (Randy).
P.H. Neufeld (as he liked to be called) was a man of God, who loved his family, friends, music and we cannot forget about his weekly A&W coffee trips that became the highlight of the week for him.
All who knew him knew he had many talents…. Not only was he a husband, father, grandfather, great-grandfather, he was also a mechanic, heavy equipment operator, welder, Sunday school teacher, youth leader, choir director, and a warrior for God through his love for music.
He played with many great musicians with his last "program" being brought to Woodhaven on June 12, 2018. His music and contributions will forever be remembered.
He was a great man to talk to as you knew there would always be a story, talks on genealogy, a joke, sharing of his wisdom or a debate on politics. He was a stubborn man but always for a good reason, he always had a smile, sometimes only in his eyes, and he fought a good fight, right to the very end.
God rest his soul, we know he will be well taken care of in heaven.
Some favourite memories include:
The tinkering … if it could be taken apart, it would be… cars, remote controls, cell phones, laptops and the list goes on.
Summer picnics, traveling to Fox Lake, Pinawa, Seven Sister Falls, Lockport and of course with mashed bologna and egg salad sandwiches, crammed into a small car, having fun, political debates; lessons on how it used to be …. suits, a requirement, women not allowed, he was passionate about the subject, his willingness to provide his knowledge about mechanics, teaching small engine repair, how to fix a lawn mower, the Saturday crackles with Mom's homemade buns and strawberry jam and LOTS of salt (Dad did love his salt and sugar), the once a year blueberry pancakes made by Dad on Dec. 27th with brown sugar water, sitting on a wooden box on the grader, riding along, eating wieners with mustard from his thermos.
Memories are many!
The viewing will be held on Saturday, June 30, 2018 at 7:00 p.m. at Birchwood Funeral Chapel, Steinbach, MB, with a devotional at 7:30 p.m.
The funeral service will be held on Sunday, July 1, 2018 at 2:00 p.m. at Birchwood Funeral Chapel, Steinbach, MB, with a viewing prior to the service. The burial will follow at the Heritage Cemetery, Steinbach, MB.
Another Soldier Down 
♫ ♫ ♫
We're in a mighty conflict here
the army of the Lord
we must join forces standing tall
and lean upon his word
the enemy is now in view
and bravely circles round
then comes the cry from the battle field
another soldier down
go then with haste
stand by his side
and lend your strength once more
go bear him up with faith & prayer
until battle's o'er
the fight before the victory
the cross before the crown
be ever watchful ere the cry
another soldier down
we've set our minds on victory
advancing day by day
we've got our hopes our strategy
armed fortress on the way
and at the end there is a rest
an everlasting crown
all in the field no more will hear
another soldier down
go then with haste
stand by his side
and lend your strength once more
go bear him up with faith & prayer
until battle's o'er
the fight before the victory
the cross before the crown
be ever watchful ere the cry
another soldier down