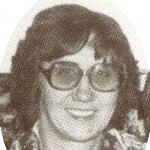 Mrs. Helena Kehler , age 47 of Steinbach, Manitoba passed away on March 15, 1983 at the St. Boniface Hospital in Winnipeg.
Funeral service will be held March 19 at 2pm from the Chortitzer Mennonite Church, Steinbach with Rev. Bill Hildebrandt  and Rev. Bill Rempel officiating.
Interment to follow in the Silberfeld CMC Cemetery.
Pallbearers for the service will be Ed Kehler, Edwin Loewen, Ronald Pries, Bradley Pries, Ken Kehler and Mel Schroeder.