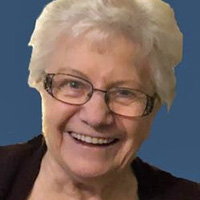 Softly and tenderly Jesus came calling. He saw that our dear Mom, Grandma, and Great-Grandma was tired, and He called her home.
On November 16, 2018 Anne Kehler went to be with her Lord. She will be reunited with her husband Jac. P. Kehler and one great-granddaughter, her parents and many other family and friends. .
Anne was born on May 3, 1938 in New Bothwell to Reverend C.W. and Maria Friesen. She was the eighth of twelve children and was expected to help around the house and on the farm. She married Jac P. Kehler in 1956 and they continued life on the farm. Anne and Jac did this for many years while raising four daughters.
After selling the homestead, Anne decided to go back to school. This led to many years working at the Rest Haven in Steinbach, where she showed much love and compassion when caring for others. She would often sit with people so they did not have to die alone. Even in her last days on earth, she showed how much she cared about others. She was so sick, but still showed much concern for everyone else.
Anne has touched many people throughout her life. Especially her family. She poured her love into us all and had a wonderful way of making us all feel like we were the most special.
She is survived by four daughters and sons-in-law Mary Ann & Neil Fehr, Marge & Eddy Hiebert, Janice & Garry Neufeld, and Wanda & Cornie Enns. She also leaves 12 grandchildren and their spouses, 22 great-grandchildren, and twins on the way!
Viewing service will be held on Thursday, November 22, 2018 at 7:00 p.m. at Birchwood Funeral Chapel, with a devotional at 7:30 p.m.
The Celebration of Life for Anne will be held on Friday, November 23, 2018 at 1:00 p.m. at Birchwood Funeral Chapel, Steinbach, MB, with viewing one hour prior to the service. The burial will follow at the Mitchell Cemetery, Mitchell, MB.