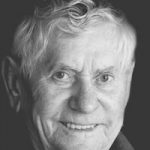 William (Bill) Kehler, 86, of Steinbach, MB., passed away Wednesday, July 31, 2019, at the Bethesda Regional Health Centre, Steinbach, MB.
Son of the late Reverend Peter S. and Katharina Kehler, Bill was the seventh child of twelve, born July 9, 1933 in Blumengard, Manitoba, where they resided in the back of the family store.

He received his education in the Twin Creek School and helped his father run the farm until his marriage.
He was baptized upon his faith in the Randolph CMC in 1954.
Dad was united in holy matrimony on October 17, 1954 to the love of his life, Katharina (Tina) Peters.  Mom and Dad enjoyed 64 wonderful years together, farming a 10 acre property in East Steinbach while Dad worked for Penner Transfer.  In May, 1956 he started delivering milk to Steinbach residents in a horse-drawn van for Steinbach Creamery.  In 1960 they purchased an 80 acre dairy farm in the Ekron-Oswald area where they raised five daughters and 2 sons, during which time Dad worked seasonally for Manitoba Hydro.  Dad was also employed by Hanover School Division as a bus driver from 1965-1993, a profession he truly enjoyed.   They moved from the farm in 1990 and resided in Steinbach until his passing at the Bethesda Regional Health Centre.
Dad enjoyed people.  He relished his time in the coffee shop with his friends discussing the topics of the day and memories of the past.  He formed many lasting relationships with the students he transported from home to school and home again for more than 28 years.
Dad is lovingly remembered by his seven children:  Myrna and Ray Friesen, Dianne and Jake Dyck, Andy and Paula Kehler, Barb and Ken Dyck, Lorna and Gord Kehler, Edna and Sjoerd Huese, and Richard Kehler; Fifteen grandchildren Jackie (Randy), Cara (Ken), Barry (Jodie), Andrea, Leia (Mike), Robby (Tracey), A. J., Kassie (Nathan), Sydney (Patrick), Mikhail, Anastasia (Brad), Victoria, Ilse (Evan), Nicholas, and Eric; and ten great-grandchildren:  Porter, Teresa, Hudson, Frances, Ramsey, Margaret, Piper, Harper, Georgia and Oliver.  Also left to cherish his memory are his siblings and in-laws:  Helen Unger, Nettie Peters, Jake and Anne Doerksen, Bill and Tina Bergen, Ed and Frieda Neufeld, Aaron and Agatha Friesen, Anne Funk, Mathilda Kehler, Helen Kehler and Sara Isaac.
Dad was predeceased by his wife Tina, February 15, 2019, his parents Peter S. and Katharina Kehler and his grandson Tyler Dyck.  He was also predeceased by his siblings:  Andy Kehler, Mary Isaac, Henry Kehler, Peter Kehler, Eva Schellenberg and Jacob Kehler (in infancy).
The viewing will take place on Tuesday, August 6, 2019, at 7:00 PM, with a devotional at 7:30 PM, at Birchwood Funeral Chapel, Steinbach, MB.
The funeral will held on Wednesday, August 7, 2019, at 10:30 AM, at Steinbach CMC, Steinbach, MB.
Interment will take place at Heritage Cemetery, Steinbach, MB.