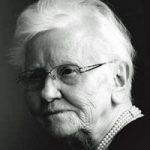 Katharina Kehler (nee Peters), 86, of Steinbach, MB, passed away Friday, February 15, 2019, at the Rest Haven Nursing Home, Steinbach, MB.
Katharina "Tina" Kehler, daughter of the late Peter and Susana Peters (nee Goertzen) was born Jan. 6, 1933 at the family home in Reichenbach, MB.
She was the eldest of three daughters and sister to two half-brothers. Mom attended Mitchell School until the end of grade six at which time she was needed to work at home. From the age of 12 through 17, Mom hoed beets in the summers to earn some extra money. From the age of 17 until 20, she worked at the sewing factory in St Pierre. She travelled to work by bus.
Mom was baptized upon her faith in the Randolph CMC on June 1, 1952.
She was united in holy matrimony on Oct. 17, 1954 to the love of her life, William Blatz Kehler. Mom and Dad enjoyed 64 wonderful years together, farming for 30 of those years in the Ekron-Oswald area, where they raised five daughters and two sons. They moved from the farm in 1990 and resided in Steinbach until her passing at the Rest Haven Nursing Home.
Mom enjoyed farming, sewing, baking and loved crocheting. In later years, she enjoyed volunteer work at the MCC Thrift Store and the Chortitzer Mennonite Church serving and sewing blankets.
Mom was predeceased by her parents Peter and Susana, her two brothers Cornelius Peters and Peter Peters, and her grandson Tyler Dyck.
Mom is lovingly remembered by her husband Bill; her seven children, Myrna and Ray Friesen, Dianne and Jake Dyck, Andy and Paula Kehler, Barb and Ken Dyck, Lorna and Gord Kehler, Edna and Sjoerd Huese, and Richard Kehler; 15 grandchildren, Jackie (Randy), Cara (Ken), Barry (Jodie), Andrea, Leia (Mike), Robby (Tracey), A.J., Kassie (Nathan), Sydney (Patrick), Mikhail, Anastasia (Brad), Victoria, Ilse, Nicholas, and Eric; and nine great-grandchildren, Porter, Teresa, Hudson, Frances, Ramsey, Margaret, Piper, Harper and Georgia. Also left to cherish her memory are two sisters, Anne Funk and Agatha (Aron) Friesen.
Viewing will be on Thursday, February 21, 2019, at 7:00 p.m., with a devotional at 7:30 p.m., at Birchwood Funeral Chapel, Steinbach, MB.
The funeral will be held Friday, February 22, 2019, at 2:00 p.m., at the Steinbach CMC, 479 Hanover Street, Steinbach, MB., with viewing one hour prior to the service. Interment will take place at Heritage Cemetery, Steinbach, MB.