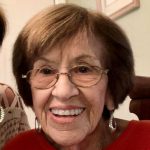 Mary Kehler Daniel, of Forest Park, passed away on September 28, 2019. Mary was a native of Steinbach, Manitoba, Canada.
A memorial service will be held at Thomas L. Scroggs Funeral Directors, 6362 South Lee St. Morrow, GA 30260, on Friday, October 4, 2019 at 2:00 pm. Pastor Justin Kollmeyer will be officiating.

She was preceded in death by her husband, Dewey Nelson "Bud" Daniel; son, Bill Daniel; daughter, Leah DeRon Cook.
She is survived by her daughters, Marsha Lynn Adams (Jim) of Carthage, SD and Millie Barnhouse (Larry) of Douglasville, GA.; grandchildren, John Kile (Rose) of Destin, FL., Tamra Lewis Kile of Ft. Pierce, FL., Katrina Crabtree (Tony) of Senoia, GA., Jaclyn Adams (Brian) of Zebulon, GA, Tiffany Esposito of McDonough, GA.; great grandchildren, Samuel, Brandon, Gabriele, and Christian of Destin, FL., Makayla Daniel of Senoia, GA., Christopher, Savanna Adams of Zebulon, GA., Ava, Alex, Aiyden Esposito of McDonough, GA.; many nieces, nephews, and cousins in Canada.