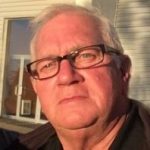 In the early morning on Monday February 27, 2017 at Boundary Trails Health Centre, Peter J. Harder went to his heavenly home. He was surrounded by his family as he went into the arms of Jesus.
He leaves to mourn his passing wife, Lottie Harder (nee Neufeld), son, Chad and Val (Aidan and Tyrel), and son, Darrell and Cheryl (Emily, Laney and Carly).
Also surviving are four brothers, two sisters, five sisters-in-law, one brother-in-law and their families. Dad was predeceased by his father, Henry Harder in 2004, his mother, Helen Harder in 2010, one nephew and one brother-in-law.
Dad was born on June 4, 1950 in Steinbach, MB. He met Mom, the love of his life when they were very young and they were married on July 12, 1969. Dad and Mom spent six years in Steinbach and then moved to Winkler in 1975 along with their two sons. They were baptized on June 13, 1976 in the Sommerfeld Mennonite Church and attended there until began attending and transferred their membership to the Winkler Mennonite Church.
Dad worked for over 30 years as a meat cutter and for the last 16 years was employed at Meridian. Dad loved his family. His favorite thing in this whole life was watching his grandkids – whether they were riding horse, playing hockey, soccer, baseball, or basketball. Dad was a man of few words and he was so grateful for all of the company in the hospital, the prayers and support – especially from his Meridian family.
Memorial service at 11:00 a.m. on Thursday March 2, 2017 at Winkler Mennonite Church with interment prior at Westridge Memorial Gardens.