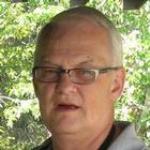 On Thursday, July 23, 2015, at the age of 63, Harold Enns of Steinbach, passed away at Bethesda Hospital.
Harold leaves to mourn his beloved wife Elinore of 41 years, daughter Melissa and her husband Hatem Kriema and their three children, Nadiya, Sarah, and Zachary; daughter Amanda and her husband Lauren Tougas and their three children, Haylee, Hayden and Harrison. He is also survived by three brothers, two sisters and their families, his parents-in-law Peter H. & Tina Neufeld, four sisters-in-law and their families, one brother-in-law and his family; and numerous nieces and nephews and their families.
Harold was predeceased by his parents, Henry and Anna Enns, two brothers, and one nephew.
Harold was born on November 26, 1951 in Steinbach, Manitoba, the fourth of six children in his family. He married Elinore Neufeld on June 29, 1974. Harold was baptized upon confession of his faith in 1997.
The family wishes to express a heartfelt thank-you to the dedicated medical staff and extended family who worked and supported us diligently through this loss.
The viewing will be held on Tuesday, July 28 at 7:00 p.m., with the devotional at 7:30 p.m. at Birchwood Funeral Chapel, 162 Hwy 52 W, Steinbach, MB. There will also be a viewing at the chapel prior to the service.
The funeral service will be held on Wednesday, July 29, 2015, at 2:00 p.m., at Southland Church (in the Chapel), Steinbach, MB, with interment to follow at Heritage Cemetery.