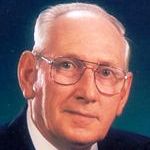 Cornelius G. Peters was born August 12, 1928, to Peter T. & Katharina Peters of Randolph. He lost both parents at a young age; but Dad was always grateful for the loving second mother he had, Susana, as well as a bachelor great-uncle Jacob Peters, who was a father figure in his life. At the young age of 15, he began a career that lasted for several decades, in cheese making and management at the Hanover & Bothwell cheese factories.
Dad was baptized at Randolph in 1948. On October 3, 1954, he married Aganetha Kehler. They lived in New Bothwell from 1954-61, at Moray 1961-1992, and in Steinbach since 1992. Dad was involved in farming, fire insurance, and the Bothwell & Moray SD boards. He also served as Waisenamt Administrator from 1968-71. On May 23, 1971, he was ordained as a Minister at Silberfeld, and served as Pastor and Hospital Chaplain in the CMC for more than 30 years. Dad was frequently called to officiate at funeral services.
With time, failing kidneys, arthritis, and a massive heart attack in 1988, took its toll, and Dad & Mom decided to spend their retirement years in Steinbach, with many visitations, church work, friends, and family involvements. Dad enjoyed woodworking, and is known for the many projects of fine workmanship he created. He passed away Thursday, May 15, 2008 near Carberry, MB, while on a trip west to visit family.
Dad is predeceased by his parents, Peter & Katharina, stepmother Susana, infant brother Abram, and infant granddaughter, Rebecca. He is survived by his wife Nettie of Steinbach; 4 sons and 2 daughters – Pete & Joanne of Neepawa, MB, Dan & Ev of Didsbury, AB, Ed & Barbara of Winnipeg, MB, Tom & Mary of Randolph, MB, Kathy & Ed Friesen and Martha & Vik Sawatzky, both of Kleefeld, MB; 21 grandchildren; 2 great-grandchildren; 1 brother – Pete & Sarah and 3 sisters – Tina & Bill Kehler, Anne Funk, and Agatha & Aaron Friesen, and a host of other relatives & good friends.
A viewing will be held Sunday, May 18, 2008 from 7:00 – 7:30 p.m. with a devotional at 7:30 p.m.
The funeral service will be held at the Chortitzer Mennonite Church, 479 Hanover Street, Steinbach, MB, on Monday, May 19 at 2:00 p.m. with interment at Heritage Cemetery.