With encouragement from his children, Sydney R.C. Reimer has published another book. This book includes writings about Syd by several other people.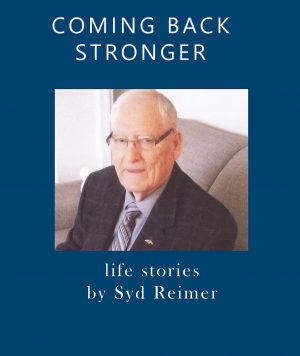 In his latest book, Coming Back Stronger, Syd Reimer highlights 14 years of working in the Rosenort Lumber Yard, 14 years with the Manitoba Disaster Service Board, and 11 years as an owner of GK Braun Insurance. A financial advisor for 45 years, 14 of which were with Investors Syndicate. Syd Reimer was involved with the Mennonite Disaster Service for 30 years, over 20 in leadership. 45 years as a pilot gives for many interesting stories that he shared in a previous book, My Flying Journey.
Syd Reimer was twelve years old when his mother, Elizabeth (nee Kehler) Reimer died. Five months later his father married Marie Brandt, a woman from Rosenort, MB. A troubled, hurting boy that was very lonely, soon afterwards spent two years working for MCC in Mexico. His father put him in a boarding school at Steinbach Bible School for grade nine. As the years passed, Syd found peace with God, and true love when he met and married Helen. Together they have had much joy, faced hardships, natural disasters, and several times, great tragedy. Each time, they have found strength in their relationship with God and rebuilt their lives, Coming Back Stronger.
Book:
The price for the book, Coming Back Stronger, is $20 plus shipping. To avoid shipping charges, local pick up locations in Steinbach and Winnipeg are available. To pick up your reserved copy, or to purchase a book, contact us, by sending an email to berliner@kehler.ca.