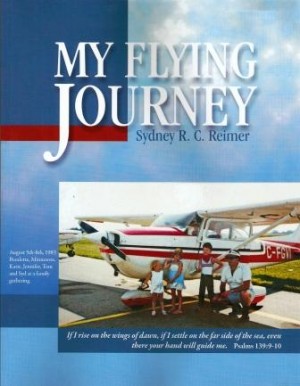 Sydney R.C. Reimer began flying in 1965 as a recreational activity. His first plane was a two-seater with a small engine. Later, when planes became bigger and faster, they also became more useful to Syd. He found he could carry more people and fly faster to meetings in other provinces and states. Syd transported ministers, missionaries and evangelists to their meetings, MDS workers to their job sites, and took government officials on flights to survey flood and tornado damage. What had started as a recreational hobby, soon turned into a useful means of transportation.
After about 45 years of flying, having carried well over 2000 passengers, with 2144 hours in his log book and crossing over 300 000 miles, Syd logged his last flight on June 6, 2009.
While Syd's book, My Flying Journey, is a personal recountal of his experiences in the air, it is dedicated to the memory of his grandson Tom Heinrichs (August 23, 1994) and daughter Marj Heinrichs (November 9, 2010), who both died in accidents.
If you are interested in obtaining his book, contact Syd Reimer for details.