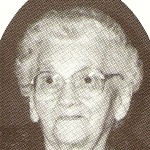 Peacefully Sunday morning, April 28, 1991 at the Steinbach Rest Haven, Annie Kehler, aged 90 years, of Steinbach passed away.
Born to Henry and Helen Wieler of Clearspring, March 23, 1901, Mother attended the Steinbach School. In 1920 Mother was baptized in the CMC Church and in 1921 married John S. Kehler. They shared 40 years of joys and sorrows. Mother and Dad lived in southeast Saskatchewan until 1930 at which time they moved to Steinbach where Dad started his own business in which Mother was a great help. Mother's door was always open and her table was always set for friends and relatives. Her family was her life and her life was her family. Her keen sense of humour and love for people gained her many friends. Mother's love for her God was evident by her hunger for the Word of God. She was a praying mother and loved singing until her last days.
She was predeceased by her husband John in 1962, daughter Edna in 1933, son Henry in 1980 and grandson Wayne Kehler in 1980.
Mother leaves to cherish her memory seven sons: Walter & Joan, John & Hetty, Glen & Kathy, Reuben & Tina, Ken and Marge, Ron & Helga, Peter & Judy; daughter-in-law Helene Kehler; two daughters: Violet & Pete Doerksen, Joyce & Corny Stoesz; 36 grandchildren; 46 great-grand children.
Viewing was held April 30 from 6-8pm at Loewen Funeral Chapel and prior to the service. Funeral services were held May 1 at 2pm at the Chortitzer Mennonite Church in Steinbach, 479 Hanover Street, with Rev. Dave Harms and Rev. Cornie Peters officiating. Interment at Heritage Cemetery.
Pallbearers – grandsons: Ed Doerksen, Blair Kehler, Mike Kehler, Cliff Kehler, Ron Kehler, Todd Kehler and Doyle Stoesz.