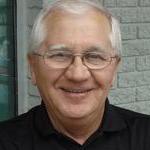 Roy Martin Broesky, age 71, of Steinbach, MB passed away peacefully with family by his side on Tuesday, February 16, 2016 at Bethesda Regional Health Centre in Steinbach, MB.
He is survived his wife of 50 years, Mary; five children and their families: Gail (Vern Toews), Bob (Trish), Val (Jake Kasowan), Mike (Jacqui), Jamie (Clarissa); and 11 grandchildren: Collin (Megan), Kierstin (Matthew Ginter), Sheena, Spencer, Tia, Apollos, Christian, Matthew, Thom, Katie and a new one to arrive later this year! He is also survived by his brother Alvin (Jewel) and his four sisters: Dianne (Roy Enns), Doris (Reuben Enns), Lois (Jim Hamilton), Linda (Ron Koop), and Rose; as well as many uncles and aunts, nieces and nephews, friends and many, many of his long-standing customers.
He was predeceased by his parents: John and Margaret Broesky.
The viewing will take place on Sunday, February 21, 2016 at 7:00 p.m. at Birchwood Funeral Chapel, Steinbach, MB
The funeral service will be held on Monday, February 22, 2016 at 1:00 p.m. at Southland Church, Steinbach, MB, with a private interment to follow at Heritage Cemetery in Steinbach, MB.