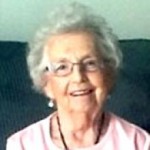 Yvonne Kehler passed away peacefully January 27, 2016 at St. Boniface Hospital in Winnipeg, with her family by her side. Yvonne was the daughter of the late Charlotte and James Potter, the sister of the late Bob Parker of Winnipeg, and was married for over 60 years to Dennis Leroy Kehler, who predeceased her in 2013.
Yvonne was a loving mother, grandmother, great-grandmother and aunt who will be missed by her children, Janice (Brian) Leonard of Spruce Grove, AB; Shelley (Bob) Prpich of White Rock, BC; Judy McGarry of Winnipeg; Diane (Allan) Kutryk of Winnipeg; Bruce (Kim) Kehler of Neenah, WI; Brenda (Mike) Bravener of Fredericton, NB and Jacquie (Ken) Walsh of Ancaster, ON. Yvonne is also survived by her 17 grandchildren, eight great-grandchildren, her sister-in-law Marianne Parker, and her four children.
Our mother will always be remembered by those that knew her for her smile, her quick wit, her love for music and ability to somehow always win at penny slots. The family also wishes to thank the doctors and nurses at St. Boniface Hospital for their loving and compassionate care that was given to our mother while in their care. In lieu of flowers, the family would encourage a donation to The Arthritis Society of Manitoba, or a charity of your choosing. A memorial service will be held at a future date to be announced by the family.