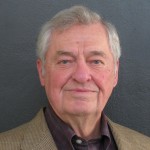 Elmer ( Al ) E Reimer, passed away peacefully at home on December 22, 2015. He was 88. Al was predeceased by his wife Joan, son Mark, sisters Louise Olson and Nita Hogue, and parents Elizabeth and PJB Reimer. He is survived and dearly missed by his daughter Cynthia Eeson, son Curt, and brother Syd, sister Charlotte Wiens, and grandchildren Jennifer Eeson, Lindsay Eeson, Mallory Eeson, Jamie Reimer and Megan Reimer.
Al was born in Prairie Rose Manitoba in the attic of the one room school where his father taught. It was an auspicious start to a long and distinguished academic career. Al earned his BA Hons from United College (U of Winnipeg) and MA and PhD from Yale University which he attended as a Woodrow Wilson scholar. In 1960 he joined the faculty at United College where he taught until his retirement in 1990.
An avid lover of the Arts, especially Opera, Al was a founding board member of the Manitoba Opera Association. He was also a regular movie reviewer on the CBC radio program The Passing Show and an editor and contributor to the Mennonite Mirror.
A gifted writer, his literary achievements include the novel My Harp Is Turned To Mourning (1986) and  When War Came To Kleindarp and other Kleindarp Stories (2008).
He was also an accomplished speaker and singer and for many years lent his rich baritone voice to the First Mennonite Church Choir and The Men Of Melody Choir of Mesa Arizona. He was passionate about sports. A loyal Jets fan and avid golfer he could recall years of statistics when the need arose. Al was an enthusiastic traveler and made numerous trips to Europe and Russia, especially Ukraine where he led groups of Russian Mennonites exploring their ancestral roots.
After retiring Al and Joan split their time between Wanasing Beach, Winnipeg, and Mesa Arizona, surrounded by family and their many friends. Al lived his life well, filling it with loving relationships, good books, fine wine, great music and meaningful conversations. Until the very end Al supported the sublime with uncurbed enthusiasm. He was never bored and had no regrets.
Interment will take place on Saturday April 30, 2016 at 3 pm at Rosenort Evangelical Mennonite Church Cemetery, 2 miles south of Rosenort, MB. Memorial service and faspa to follow at 3:30 pm at Rosenort Heritage Center.