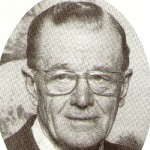 January 11, 1982, at his residence, Jacob J. K. Kehler, aged 71 years beloved husband of Elizabeth of Steinbach.
Last respects may be paid Thursday, January 14 from 5-8 pm at Loewen Funeral Chapel and prior to the service. Funeral service will be held Friday, January 15 at 2pm from the Chortitzer Mennonite Church, Steinbach with Rev. Peter Broesky and Rev. Bill Hildebrandt officiating. Interment to follow in Steinbach Cemetery.
Besides his beloved wife Elizabeth, Mr. Kehler leaves to cherish his memory: one daughter-in-law, Helena Kehler, Steinbach: one brother George, New Bothwell; six grandchildren and three great-grandchildren.
Mr. Kehler was predeceased by one son Denis, one daughter Rosella, on grandchild Carol Elaine, one brother George.
Pallbearers for the service will be Don Kehler, Eddie Funk, Eddie Kehler, Edwin Loewen, Leonard Steingart, Murray Fehler.