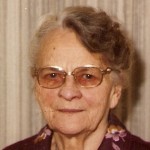 On July 12, 1988 at the Bethesda Hospital in Steinbach, Mrs. Helena Kehler, aged 87 years, of Steinbach, MB.
Funeral service will be held on Monday, July 18 at 2pm from the Chortitzer Mennonite Church in Steinbach with Rev. Bill Hildebrandt and Rev. H.K. Schellenberg officiating.
Interment will follow in the Steinbach Cemetery. Last respects may be paid at Loewen Funeral Chapel on Sunday from 7:00 to 8:00 pm and at the church prior to the service.
Mrs. Kehler leaves to cherish her memory three daughters, Maria and Isaac Giesbrecht of Winnipeg, Betty and Gus Dueck of Mitchell, Helen and Bill Hildebrandt of Steinbach; seven sons, Jake and Helen of Steinbach, Peter and Eva of Steinbach, Henry and Sue of Minneapolis,  Edgar and Helen of Steinbach, Stan and Mary of Mitchell, Ben and Martha of Steinbach, Ernie and Louise of Calgary; one daughter-in-law Katie Kehler of Winnipeg; 41 grandchildren; 27 great-grandchildren; one brother Cornelius and Lydia Stoesz of Steinbach. Mrs. Kehler was predeceased by her husband David in 1963; one son Dave in 1975; one grandson Nathan Kehler in 1988.
Pallbearers for the service, grandsons Douglas Giesbrecht, Conrad Dueck, Mark Hildebrandt, Brad Kehler, Randy Kehler and Terry Kehler.
My children, I would like to leave you the following words of this poet:

Farewell my beloved, there has to be parting
Today, its going home, God be with you
I am going to my rest.
I am tired and so feeble
And have had enough of life's struggles.
I hear Jesus friendly calling
"Come to Me, I'll give you rest"
When I am in dying pain
And my eyes shall close in death.
Weep not, my beloved
Then I am with the Saviour.
There in heaven's light so clear
All to me shall be revealed.
And my faith becomes my sight.
Blessed it is to trust in God.
Earthly pleasures, earthly pains
All will be in the past.
The suffering I have endured here
Will be covered by the cool, dark grave.
There will be no more tears
Nor sorrow to burden my heart
Eternal peace shall fill my breast
And my soul shall leap for joy.
Dearly beloved, children mine,
My heart's sunshine
Be faithful in fulfilling your obligations
And don't forget your mother.
Should there be difficulties in your life
And many things you do not understand.
Trust in God
He is with you and helps you willingly.
I have to leave now.
But there will be a meeting again.
Beyond the heavenlies,
When it will please the Lord.
Live godly and prepare yourselves.
Prepare yourselves for that Eternal bliss.
May God graciously watch over you.