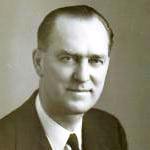 After a brief illness, on January 11, 1988, while on a visit to Hawaii, Rev. Reimer, beloved husband of Marie Reimer of Rosenort, MB died peacefully in Honolulu, at the age of 85 years.
He was born in Steinbach on October 18, 1902, the youngest son in a pioneer family of five sons and five daughters. As a good student in somewhat delicate health, he received special permission from his church to attend high school and become a teacher. He began his teaching career in 1922 and retired in 1967, having taught in a total of 43 years in southern Manitoba schools. During those years, he earned his B.A. degree from the University of Manitoba by completing 14 summer school sessions spread over two decades.
In 1944 he began a second career when he was elected to the ministry by the EMC Church in Steinbach.  A natural organizer and innovator he had already served as its first Sunday School supervisor, choir director and director of youth programmes. During the war years he carried his ministry to Mennonite C.O. Camps in Western Canada. He was also actively involved in establishing the Steinbach Bible School and served as its secretary-treasurer for 25 years. He took a keen interest in the Manitoba Teachers Society and held several administrative posts in it over the years.
With an absorbing, life-long interest in Mennonite history, he was one of the founding members of the Manitoba Mennonite Historical Society and played a significant role in the establishment of the Village Museum in Steinbach. He received the Society's Order of Merit in 1970 and was honoured at a special testimonial dinner in 1982. He was still on the Society's board at the time of his death. He was also one of the founding members of the Steinbach Credit Union.
He was an extensive traveller and with his broad knowledge of history and retentive memory he excelled in writing informative and entertaining travelogues for Mennonite papers and journals. He enjoyed writing and for the past ten years wrote a regular column in German for the "Scratching Post" in Morris, never once missing a column even when he was sick or on vacation in his beloved Hawaii.
As a teacher, minister and writer, he touched the lives of many people and will be missed by the Mennonite community in this area. His love for learning inspired many young Mennonites to pursue higher education and to become teachers themselves.
He leaves to mourn his devoted second wife Marie; two sons Al and his wife Joan, of Winnipeg, Sydney and his wife Helen of Rosenort and three daughters Louise Olson of Morris, Nita and husband Guy Hogue of Mililani, Hawaii and Charlotte Wiens of Rosenort. He is also survived by his youngest sister Sara and her husband Peter D. Kroeker of Steinbach; as well as by 18 grandchildren and 20 great-grandchildren. He was predeceased by his first wife Elizabeth (Kehler), the mother of his five children and by two sons-in-law, Clarence Olson and Norman Wiens.
Funeral service will be held on Saturday, 10:30am in the Rosenort EMC Church, two miles south of Rosenort, with interment in the church cemetery. Following interment everyone is welcome to attend a fellowship and memorial luncheon in the church.
A special service and viewing on Friday at 7pm at Klassen Funeral Chapel, 1897 Henderson Hwy. Winnipeg.