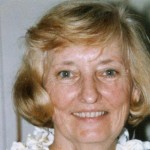 Nita Amy Rose Hogue (nee Reimer), 83, passed from this life Sunday, May 24, 2015, at home in the Carriage Inn in Huntsville, Texas, after a brief stay at Huntsville Municipal Hospital. Nita was born in Steinbach, Manitoba, Canada on October 15, 1931. She graduated from the Steinbach Academy in 1950 and attended college at Sayre Junior College in Sayre, Oklahoma. There she met and later married Guy W. Hogue in Winnipeg, Manitoba, Canada in 1953.
Her husband's job took them to a number of different cities in the USA and Canada. At every location Nita found sorority sisters and church friends at the Episcopal Church, having joined the Anglican Church of Canada in 1956. She was very active in Church affairs, holding many offices in the Church and Daughters of the King.
While living in Hawaii for 22 years, Nita was elected President of the Episcopal Church Women of Province VIII at Fresno, CA. Province VIII covers the western states along the Pacific Coast as well as Hawaii and those churches located in China and the Philippine Islands.
When her husband retired in 1998, they moved to Huntsville to be near their daughter in Houston. They lived in Elkins Lake for many years before moving into the Carriage Inn.
She was predeceased in death by her mother, father and step-mother, and her sister Louise Olson. Nita is survived by her husband Guy of Huntsville, son Terry Hogue of Huntsville, son Al Hogue of Lafayette, Louisiana, and daughter Sandra of Huffman, near Houston. She has five grandchildren.
A celebration of her life will be held at St. Stephen's Episcopal Church, 5019 Sam Huston Ave. in Huntsville on Saturday, May 30th beginning at 11 AM with light refreshments served afterward by The Daughters of the King.
View the Celebration of Life Program here.
Video Tribute:
The following Tribute, was shared by Nita's brother, Syd Reimer:

Nita Amy Rose Reimer was born Oct 15th, 1931, in Steinbach, Manitoba, Canada, a village of 1500 people, mostly Mennonites. Our Reimer grandparents were one of 18 families that started this village in 1874 when they immigrated from Russia.

Nita had two sisters and two brothers and was the middle child, but unlike most middle children, she was always the 'princess' of the family. We grew up in a happy home. Our father came from a very conservative Mennonite background, where the church influence was very evident in our daily lives, but Mother came from a much more liberal Mennonite home. When Dad's relatives came to visit they were very somber, and no laughter, but when our mother's relatives came, our house was rocking with laughter and stories, and Mother was right in there with the rest of them. She always brightened every room she entered, and Nita was exactly like her mother.

Growing up we were taught that going to movies was a sin, wearing jewelry was a sin, and smoking was very much a sin. It caused some conflict because most of Mother's brothers smoked. Nita made sure we adhered to these rules. One day she and her friends caught me and my two cousins smoking under our porch, and we were in deep trouble. Dad was at a meeting in church, Mother was bedridden, and I knew Nita would rat on me when Dad came home. My cousin Milton had an idea. We would go to church and confess our sin before Nita had a chance to tell Dad, and this plan worked. We got to the church and found an usher who was willing to get my Dad out of his meeting. He came out and asked what the problem was. I told him I had sinned and smoked, and was very sorry, and asked him to please forgive me. Well, he forgave me, and I knew this saved me from a spanking later. When Dad got home Nita greeted him with my terrible sin, but he said the issue was settled.  Good on you, Nita.

On a very cold night in January, 1946, our mother died. My youngest sister Charlotte was 8 years old, I was 12, Nita was 15, our sister Louise was old enough to leave home, and my brother Al was away teaching school. Our very happy home became a very sad home.

During this time Nita got polio. Our dad decided that our relatives in Sayre, Oklahoma, who had children Nita's age, would be willing to take Nita in, and the warm climate would be better for her health, and that's what happened. Nita went to high school in Sayre. Guy Wendall Hogue attended the same school, and the rest is history.

We were excited about this 'Guy' with whom Nita had fallen in love, and when Guy arrived in Manitoba driving a yellow convertible, we were all smitten! Nita was so proud of her 'Oki' boyfriend and it didn't take long before we all loved him.

I asked my sister Charlotte about her best memories of Nita. She said Nita was always very generous, gave her pretty clothes, money when she needed it, and made sure Charlotte got a home permanent, a Toni, whenever she wanted curls. Nita taught her little sister a lot about growing up, was always ready to listen to her. They spent many hours on the phone, and Nita gave Charlotte the love she missed when our mother died.

Louise, my older sister, used to say that Nita knew how to get her way, and usually got what she wanted. When it was time to do the dishes, Nita had to go to the bathroom. A princess indeed!

Our children have fond memories of their Auntie Nita. They say she was an elegant auntie. When she came to Rosenort she was always dressed to a T, her nails were manicured, and she wore lipstick. The kids remember going to Texas as teenagers, and Nita made scrambled eggs with seasoned salt, and they thought this was the best ever! Yes, Nita was a princess, the way she dressed and acted. In fact, I think she was a princess.

Some years later Guy and Nita moved to Hawaii, and I'm sure we depleted their bank account because the family wanted to get away from our cold winters and go to Hawaii. Had to keep up family relations, you know. Our parents spent many winters there and Guy and Nita were always gracious, hospitable hosts. We all know how fussy Nita was, but she never complained. Our dad died in Hawaii on one of his visits — went from paradise on earth to paradise in heaven. Terry, Allen, and Sandra got to enjoy your grandparents because of their frequent visits. You have embraced and given us, your extended family, a lot of love, and we will always be grateful.

We all know how fussy Nita was, but she never complained; she did try to keep us in line. Mostly we did listen to her because she was usually right.

Nita was a godly woman from childhood until the day she died. Her whole family all experienced her faith in God, and she expressed her faith in many ways, attending and participating in her church regularly, and by praying for her family, her friends, and her siblings.

She leaves a big hole in our lives, and we will miss her so much. I loved and admired and respected, and sometimes feared my big sister. We don't fear the future now because we know Who holds the future. Those who believe and accept God will meet her in Glory. She will be waiting up there for us, and telling us where to go and what to do when we get there.

Your loving brother,
Syd