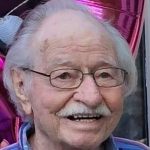 Dad was a true Renaissance man.  He was a real romantic, but he was also a carpenter, inventor, writer, and most important to him, loving husband and patriarch.
Dad was born on August 21, 1933, the day before his oldest sister, Edna, passed away.  He was the sixth of eleven children born to John and Annie Kehler.  Dad loved his big family and regaled us all with many stories of his childhood including his brothers, sisters, cousins, friends and of course Felix the wonder dog.
Grandma and Grandpa Kehler worked hard to provide for their family.  Unfortunately, grandpa became ill, and Dad chose to quit school at 14 to run the family business, a slaughterhouse.  He later found work away from home in Pine Falls as a Timekeeper.  He was proud to be able to send some of his cheque to his parents and in later years to help his mom.
On December 26, 1951 the wooing of the beautiful Kathie Thiessen began.  He brought a gift of licorice all-sorts and asked her out.  Unfortunately, she was babysitting at the time but when she called her parents to ask if Glen could join her, they approved – they grew to love dad so very much.  Dad and Mom dated for three years before marrying on April 3, 1954.  Late that year they welcomed their daughter Pam.  Blair, Karen (Mark), Lori (Glen), Stuart (Jodie) and Maxine all followed.
In 1962 Dad began his long career with Dominion Construction as a carpenter.  His work ethic and quick brain got him noticed as a problem solver and Dad moved up the ranks to eventually become the Manager of Construction for Dominion before retiring early in 1987 and starting his own businesses. On our many car trips out west, Dad would proudly point out the buildings he had a hand in constructing.
In the 1980's Dad noticed a need for a drain system that was both easier to install and cleaner to maintain.  He invented Slot Drain in response to that need.  He patented it and was so proud that it had been installed world-wide.
Dad always was a hard worker, but it was all for the love of his family and to provide all for all our wants and needs and a good life that he worked so hard.
In 1969, Dad and mom took a huge step and bought a cottage at Caddy Lake.  There, their family, extended family, friends and neighbour kids were all welcomed with open arms.  Dad taught so many of us the fine art of looking cool while waterskiing as he always seemed to be able to land back on the dock without getting wet. On Sundays he would send us out to gather blueberries while he made us huge stacks of crepes.
In 1973, Dad became Papa for the first time.  Dad was so very proud of his sixteen grandchildren – Sean (Renae), Tyson (Iryn), Chris (Danielle), Brandy (Steve), Jordon (Rachel), Sarah (Mohammad), Laura (Curtis), Shayne, Deanna, Richelle (Dave), Dylan (Chante), Kam, Nathan, Michael (Nicole), Austin and Zachari (Crystal) – and fourteen Great Grandchildren – Brycen, Rhys, Kara (Adam), Benjamin, Malaya, Nolan, Iris, Justin, Luke, Cody (who predeceased Dad), Jewel, Brett, Ella and Amelia.
Dad had a special affinity for small children, loving the chance to play with them and be silly.  They all seemed to love him right back.
Dad prayed for each and every one of us nightly before falling asleep, and shortly before his passing described how much fun he would have being able to build each of us a home up in Heaven.
In 1990, Dad received a contract in then Soviet Russia.  He loved the opportunity to travel it afforded him and Kathie.  Together they travelled from Hudson's Bay to Belize, as well as both coasts and much of Europe.  His open and engaging spirit made him many friends along the way and the beautiful twinkle in his eye made him look like he had a good joke to share.
In his later years, Dad took up genealogy and compiled a Kehler family tree.  He also had a keen love of storytelling and to our happy surprise began working on a book of family stories with his cousins and friends Syd and Al Reimer.  They had so much fun working together on that project that their Wednesday meetings at Applebee's became a regular highlight of Dad's week.  Often other cousins and friends would join the "Three Romeos" and Dad enjoyed these times immensely.
We are going to miss Dad so very much.  His huge personality and kind gentle heart were treasured by all of us.
Because of these difficult times a celebration of Dad's life will take place when conditions permit.