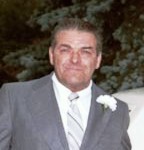 Peacefully, on Saturday, August 23, 2003, Ernest Kehler, beloved husband, father, grandfather and great-grandfather, passed away at the Grace Hospital at the age of 71 years.
Ernie will be sadly missed by his loving wife Eva; daughters Brenda (Cully) and Pamela (Richard); sons Ted (Shirley) and Darryl (Hollie); eleven grandchildren; four great-grandchildren. He also leaves to mourn his brothers; Ben and Dave (Irene) and sisters Mary and Kelly, other relatives and friends. He was predeceased by his sisters Susie and Betty, and brothers Jake, Pete, George and John.
Ernie was born on May 5, 1932 in the RM of Hanover, MB. He married Eva on April 23, 1955 and they moved to Winnipeg where they raised their four children.
Ernie loved his job as a journeyman lineman for Manitoba Hydro, where he worked for 21 years.
He was a "natural" story-teller and loved to entertain family and friends with his humorous stories of his life's experiences. He was also a natural gardener, handyman, and back yard mechanic – Dad could "fix" anything!. He also loved to play pool with his sons and Legion friends. He loved life and fought his disease for years with strength, courage, and dignity.
The family would like to extend their heartfelt thanks to his Homecare Workers, Armando, Joanne, Della, Cathy and Joan as well as the many nurses and staff at the Grace Hospital.
According to Ernie's wishes, cremation has taken place and a Memorial Service will be held on Wednesday, August 27 at 2:00 p.m. at Cropo Funeral Chapel, 1442 Main St. with Lieut-Colonel Maxwell Ryan officiating.