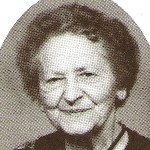 January 24, 1994 at 1pm, with her family at her side, our mother, grandmother and great-grandmother Lizzie Dueck went to be with her Lord and Saviour after a lengthy battle with a blood disorder.
Lizzie was born in Halbstadt, now known as Shakespeare, September 8, 1915. She was the third of 11 children born to Aron and Elizabeth Kehler.
At the age of nine she moved with her family to Stuartburn where the family farmed and her father worked as a carpenter. At the early age of 11 years, she went to work as a child care worker and housekeeper and for the next few years worked for Rev. Peter S Kehlers, Dave Hieberts, Henry Neufelds, Jacob Toews, Julius Blocks, Peter D Reimers, the Giesbrechts, Kroekers and Loewens. She shared many wonderful memories with us about the people she worked for and how well they treated her.
Mother was baptized upon the confession of her faith into the Chortitzer Mennonite Church May 16, 1937.
At the age of 22, on October 14, 1937 she married Diedrich W Dueck. They moved to the Hanover School District where 11 children were born to them, of which four sons died.
Between the age of 14 to 16, mother had experienced severe depression and loneliness and when she could neither eat or sleep, she said that Jesus came to her in a cloud, spoke to her saying, "I will never leave you. I will always be by your side." Mother had many trials and tribulations throughout her life but at this early age she had learned to depend on the Lord for strength.
In 1973, Mom and Dad moved to Steinbach and Mother took up work cleaning at the Manitoba Telephone System where she worked until age 65 and then retired to care for Dad who was ill. In 1986 Dad passed away and shortly after that Mother was diagnosed with a blood disorder. For the past 7 ½ years, she lived her life to the fullest, never once complaining about her ill health. Mom was always getting better.
Mother had the most positive outlook in life and always felt there was someone worse off than her. Her love and concern for others was always evident. And the love and compassion she showed to us, her children, will be forever treasured in our hearts. She taught us how to love, and she taught us how to live. She taught us how to pray and she taught us how to give.
Left to cherish her blessed memory are five daughters: Martha (John) Neufeld, LaVerna (Walter) Griffith, Bertha (Ray) Laing, Norma (Keith) Roulston, Rhonda (Donald) Harms; two sons: Peter (Phyllis), Edwin.  She is survived by 15 grandchildren, 10 great-grandchildren; six brothers: Pete (Lil), John (Annie), George (Bessie), Dave (Irene), Ben (Lila), Ernie (Eva); two sisters, Kelly (Don) Larson, Mary (Bud) Daniel; one sister-in-law Ida Kehler.
She was predeceased by her husband Diedrich; four sons: Ernie, Danny, Ervin, and Melvin; one brother Jake Kehler; Sister Susan and her husband Jake Doerksen.
The funeral service will be held Thursday, January 27, 2pm at the Steinbach Chortitizer Mennonite Church with Rev. Richard Martens, Rev. John M Wiebe and Rev. C.G. Peters officiating, with burial at the Randolph Cemetery.
"I have fought the good fight, I have finished the race, I have kept the faith." 2 Timothy 4:7