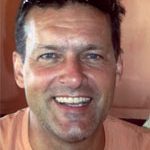 David Norman Wiens, born June 1, 1963 passed away March 4, 2017 in Belize City, Belize, after a very brave fight with a ruptured appendix.
Dave is predeceased by his father, Norman Wiens and his nephew Andrew Siemens.
He is survived by his Mom, Charlotte Wiens. His brother Paul and Pam and daughter Samantha and Pauls's son Tyler. His sister Judy and Frank, Jeremy and Carly.
Dave grew up in Rosenort, completed Grade 9 twice and decided school wasn't for him. He worked with construction and had many great memories of working with Rosenort Concrete, Nelson Toews and Byron Loewen, but his heart was always telling him to go South. In November of 2002 he moved to his home, Belize. He loved it there. Barefoot in the sun and sand. That's exactly where he wanted to be! A simple life…really an amazing life because he followed his heart and lived his dreams. We love you Bigga! As per his wishes, Dave was cremated and his ashes were spread in his backyard, in the Mopan River. A place he loved to be.
A Celebration of Dave's Life will be held Friday, May 19th at 7pm at the Rosenort Fellowship Chapel. We would love for you to come and share your stories and memories of Dave with us.