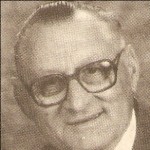 Saturday, November 7, 1992 at his residence, Peter H Doerksen, age 70 years, beloved husband of Violet, Steinbach, passed away.
The funeral service will be held Wednesday, November 11, 2pm at the Chortitzer Mennonite Church, 479 Hanover St., Steinbach with Pastors Richard Martens and Cornelius G. Peters officiating. Interment will follow in the Heritage Cemetery, Steinbach. Viewing will take place at the chapel Tuesday between 7 and 8 pm and at the church prior to the service.
Besides his wife Violet, Mr. Doerksen leaves to cherish his memory three daughters: Marilyn and friend Lawrence Smale of Glenella, Beverly & Mel Dueck of Swan River, Elaine & Reg Peters of Steinbach; three sons: Edward & Brenda, Peter & Rosella, all Winnipeg, Henry & Naomi of Steinbach; 10 grandchildren; two sisters: Helen & Neil Doerksen of Perth, ON, Kay Doerksen of Steinbach; Five brothers: John & Mary, George & Annie, Henry & Tina, all of Paraguay, Abe & Jessie, Ed & Nettie, all of Steinbach; brother-in-law David & Mary Klippenstein of Rosa.
He was predeceased by a sister Susie Klippenstein, and a sister-in-law Tina Doerksen.
Pallbearers for the service : Edward Doerksen Jr., Daryl Doerksen, Raymond Doerksen, Lawrence Smale, Mel Dueck and Reg Peters.  Honorary pallbearers Karen Doerksen, Bonnie Doerksen and Murray Sul.