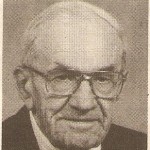 Peacefully, after a lengthy illness, Peter H. Kehler passed away May 31, 1995 at the Bethesda Hospital in Steinbach at the age of 81 years.
He leaves to cherish his memory his wife Lillian (nee Borkowsky); two daughters – Frances and Peter Peters of Steinbach and their children Scott and friend Sherrdean; Pam, fiancé David and Jordan; Kristie and friend Mike; Val & Bernie Brodeur and their children Nathan, Natashia, Benjamin and Nicholas.He leaves behind five brothers: John & Annie, George & Betty,  Ben & Lila, Dave & Irene, Ernie & Eva; two sisters: Kelly & Don Larson, Mary & Bud Daniel; sister-in-law Ida Kehler.
He was predeceased by his parents Aron & Elizabeth Kehler, brother Jake and sisters Susie Doerksen and Lizzie Dueck.
Peter was born April 28, 1914 in Halbstadt. He began his career as a carpenter at an early age alongside his father and brothers.
December 28, 1942 he married Lillian Borkowsky at St Paul Lutheran Church in Friedensfeld. Pete entered the Canadian army during World War II, serving with the Royal Canadian Artillery from 1942-1946. He was a gunner with the anti-aircraft regiment in Comax, BC.  Some of Pete's fondest memories were of this time of his life.
After the war, Peter and his brother John formed Kehler Construction. During their 40 years together they constructed a variety of buildings, many of which can still be seen throughout the community. Because of his love for building, he actively participated on the building committee of the St Paul Lutheran Church and the Royal Canadian Legion in Steinbach. Pete enjoyed fishing, gardening, storytelling and trips to visit family and friends.
Throughout his illness, Dad's sense of humour and faith sustained us through the difficult times.
Viewing was held June 2 from 7-8 pm at Loewen Funeral Chapel. The funeral service was held Saturday, June 3, at 2pm at St Paul Lutheran Church in Steinbach with Pastor Al Maier officiating. Interment followed in the St Paul Lutheran Cemetery.
Honorary pallbearers were Leon Diduch, Roy Ormiston, John Dyck, Andy Whitehead, Jake Hiebert and Garry Kehler. Active pallbearers were Scott Peters, David Butler, Roy Kehler, Bob Kehler, Marc Rafford, and Walter Griffith.