The biggest graduating class in the history of Ste. Anne Collegiate accepted their diplomas on June 27, 2016.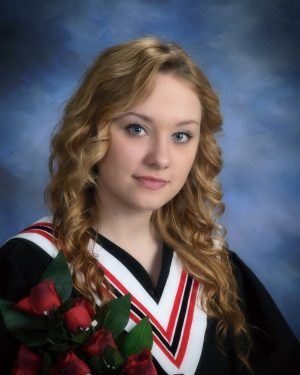 Kaylee Peters was this year's Valedictorian. As selected by school staff and her peers, Peters was an easy choice because of her involvement in the school community.
"She is one of those students every school has and hates to see go."  Principal Yvan St. Vincent 
Peters says she felt honoured and kind of guilty when selected as valedictorian. "We had a lot of people audition to be the valedictorian but I'm quite honoured, and I worked hard for it." She adds, her classmates are like a big family because they all grew up together, and coming from a small school they always knew who was going to be in their class. "We have a high spirited school, if you came to any of our basketball games you would have seen our benches filled. We did a lot of outings with sports and had an amazing spirit week, so much team spirit."
To her classmates Peters notes, "We did it! We are officially out of here, and it's important to know the connections we made here and the people we met here will never waver, and we will always have these people who will help us out wherever we go. We are all grown up now, and there's so much hope for the future, I can hardly wait to see what my classmates all become."
Kaylee Peters was the recipient of nearly $3000 in bursary awards, which included the Stacey Paycheck, Knights of Columbus, Spirit of Richer, Bob Lagasse and the University of Manitoba entrance scholarships
Peters has been accepted into the University of Manitoba in the fall, and hopes to become an architect
Kaylee Peters, is the daughter of Karin (Kehler) & Menno Peters, and the granddaughter of Benjamin & Martha Kehler, Steinbach, MB.