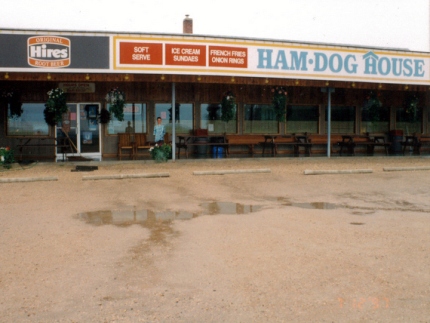 There is a lot of history at the corner of Highway 52 and Centre Street North in Mitchell.
The half-acre or so of land on the west side of Centre Street North is the location of the popular Ham Dog House, but that building wasn't always a restaurant, it was originally built as a school house to provide local children with education.
Over the years it has been a gathering place for the people of the community, but now there are plans to move the building for the development of a condominium complex.
Stan Kehler's family has a long and storied connection with Ham Dog House. Kehler's grandparents Jacob (Berliner) and Elizabeth Kehler immigrated here from Russia back 1875. They would settle on the quarter section of land fronting present day Centre Street North in Mitchell, then known as Ebenfeld.
Around 1919 construction began on a one room school house on the southeastern most corner of their property. Kehler reflects that life back in the early 1920s was considerably different then we know it today.
"There was no fire to heat the building at night," Kehler said. "It was the teacher's duty to come in early to heat up the building before the students arrived. Transportation was by horses, yeah it was a beginning."
The school in Mitchell was officially closed in 1968. Students were then being bused to newer and much larger schools in Steinbach. A few years later the building was converted to a restaurant.
One of the restaurant owners was Grace Enns. She explains how she and her husband adapted the business in 1994. "My husband had a job and was let go. I don't know how he thought of it, but he drove by the Ham Dog home and said 'What if we give an offer and try and buy the Ham Dog'."
For the five plus years that they owned the Ham Dog, business was booming. "Some days it was unbelievable. Especially Sundays, the yard was full and often people were lined up on the street waiting to get in."
Since the restaurant shut down in the early 2000s, there haven't been any stable tenants. Most recently a developer purchased the lot with aspirations of bringing people back to that space, but not as a restaurant but with plans of developing a future condominium complex.
"It's kind of sad thing," Enns says about the building being erased forever. "It was kind of a meeting place for this community."