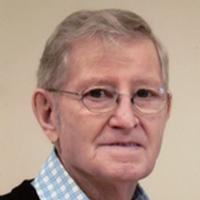 Jacob P. Kehler, mischievous jokester, dessert and Faspa enthusiast, strong and faithful prayer warrior, and irreplaceable father died on January 13, 2015.
He died the way he lived, gently and in peace. Jac was born December 22, 1930 to Henry S. and Agatha Kehler. As a child he had a great sense of humor which sometimes made him a troublemaker but this fun-loving carried on throughout his life. He kept a list of jokes in his pocket that could be pulled out at a moment's notice.
Nearly every person that Jac came into contact with could somehow be traced, as he was the master of knowing 'frindschof.' He never met a person he couldn't turn into a relative!
One of the biggest characteristics that defined Jac was his love for his family. His wife, children, grandchildren, and great-grandchildren were his world. He lived to be around family and recorded every important event in his family bible. The last week of his life was a week-long family gathering and he loved having so many visitors.
Jac was a faithful man of God and prayed often. He was baptized in 1954 and could often be seen praying for others. That faith has been a shelter and heritage for us all.
Jac leaves behind his wife Anna (nee Friesen), daughters Mary Ann (Neil), Marge (Eddy), Janice (Garry), and Wanda (Cornie). He also leaves 12 grandchildren, their spouses, and 19 great-grandchildren! He was predeceased by his parents Henry S. and Agatha Kehler, brothers Neil and Peter (Jim) and great-granddaughter Breanna.
It has been said that every man leaves a legacy. Jac leaves a lasting legacy which will be seen in his family for generations to come. His prayers have been fulfilled!
The viewing for Jacob Kehler will be held on Friday, January 16, 2015 at 7:00 pm with a short devotional at 7:30 pm at Mitchell Gospel Church at 57 Willow Street in Mitchell, MB.
The funeral service will be held on Saturday, January 17, 2015 at 2:00 pm at Birchwood Funeral Chapel, 162 Hwy 52 W, Steinbach, MB. Burial will follow at Mitchell Cemetery, Mitchell, MB.