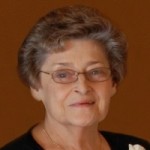 It is with sadness that we say farewell to our mother, grandmother, great-grandmother Betty Dueck (nee Kehler).
She slipped away peacefully on Thursday, October 1st, 2015 with her family at her side. She was born on Friday, February 13, 1931 in the R.M. of Hanover to David S. and Helen Kehler. She was pre-deceased by her husband Gustav, her father, mother, one grandson and six brothers.
Remaining to cherish Betty's memory are two sisters, Maria Giesbrecht and Helen Hildebrandt, two brothers, Stanley (Mary) Kehler and Ben (Martha) Kehler, her children Deborah and Brian Schwark, Theresa and Bill Dyck, Lucille and Bob Rempel, Conrad and Kristine Dueck, her grandchildren, Cory Dyck, Nathan and Sara Dyck with Jagger and Sebastian, Garreth and Giancarla Rempel with Jackson and Charlotte, Jenessa Robinson with Isaiah, Jahel, and Darnell, Dana and Jon Warkentin, Ava Dueck and Nikola Dueck as well as extended family and many close friendsBetty was baptized in 1949 and held strongly to her faith through her whole life. She was a shining example of God's love, compassion, and forgiveness, which showed in the many people whose lives she touched, quietly and powerfully.  She was always full of joy and laughter, teaching her children to face life's difficulties with a smile, which kept her spirit young and fresh. At 84, she was ever strong and selfless.  She always thought more of the visitors who came to see her and those who cared for her, not complaining or focusing on her own suffering.  During her residency at Bethesda Place she made many new friends who will miss her cheerful smile and sense of humor.
Family was very important to her and she was proud of her heritage.  She enjoyed getting together with the noisy and jovial Kehler clan and always looked forward to the great times with the Duecks. Betty made her home a welcome place for family and friends.   She loved cooking and was a marvelous hostess.
Over the years she served in the church and community.  She was a 4-H leader for many years and served extensively at the senior centre in Mitchell. She was hardworking and adventurous and challenged her children to 'learn to do by doing'. A skilled seamstress she sewed everything from draperies to wedding dresses. Her creative, artistic skills and meticulous handiwork were demonstrated in the many items she knit and crocheted. Even in her last months, while living in a nursing home, she embroidered for MCC.
A service to honour Betty Dueck will take place on Wednesday, October 7, 2015 at 2:00 PM at Birchwood Funeral Chapel in Steinbach, MB.  Viewing will take place on Tuesday, October 6, 2015 at 7:00 PM with a devotional to follow at 7:30 PM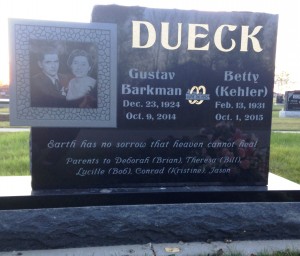 The following tribute to Betty Dueck was shared at her funeral, by her sister Maria:
"Sisters are for sharing laughter and wiping tears.
A sister shares childhood memories and grown up dreams.
Sisters we will always be.
A couple of nuts off a family tree."

Betty, my sister, my friend.

I was 3 ½ when my Papa woke me to tell me "you now have a sister!"
Baby sister Betty was my dream come true. No longer would I have to fight with my brothers alone – a sister to help me, Wow!

Over the years our family became a family of eight boys and three girls. We girls were out numbered and my dream of an ally in my sister was shattered – Betty was a Tomboy! Her motto was, "If you can't beat them, join them!" So much for my plans to a win any fights – don't worry, we all survived to adulthood!
Betty was the middle sister and, as we all know, a middle child gets away with a lot more than the older sibling. Betty hated washing dishes and had a habit of disappearing into the outhouse until they were done! I did eventually forgive her for not joining me to present a united force against our male dominated household and as adults, we remained good friends. Although we did not enjoy the closeness of living in the same community, when we were together, we simply picked up where we left off.

Over the years Betty faced many healthy issues with courage. I loved her optimistic spirit. In the past year specifically, our visits at Bethesda and on the phone were filled with much reminiscing and even more laughter. She accepted her situation without complaint, focusing on the positives and always finding something to laugh about – a role model for us all!  Above all, Betty loved and took great pride in her family. I too share her pride – she has a very wonderful family.

In our last phone conversation, we planned to see each other at our brother Benny and Martha's 50th wedding anniversary that was celebrated this past Saturday. These were our plans but God called her home for a great reunion. Betty knew all about God's promises to her. In heaven she has everlasting life devoid of pain and sorrow. Betty is now in our Heavenly Father's presence with family and friends.

Betty, we will all miss you and thank you for the memories and for the many ways you enriched our lives.

2 Corinthians 5:1
"For we know that if our earthly house, that tent, is destroyed, we have a building from God, a house not made with hands eternal in the heavens."

God bless and keep you and make His face shine on you and grant you His peace, a peace that passes all understanding.

~ Maria (Kehler) Giesbrecht