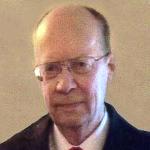 It is with great sorrow that we announce on Friday, May 30th, 2014, at the age of 74, Walter slipped away peacefully into his Saviour's arms, with family by his side.
Walter was born in Battleford, Sask. and grew up in Vancouver, B.C. He had a successful, 42 year career working in retail as a manager and district manager for Kresge's, Kmart and later as a District Manager for Saan Stores.
Walt spent many summers in the Okanagen Valley, his favourite place. His children and grandchildren were his pride and joy. He invested a lot of time into their lives and will be sorely missed by them.
His memory will be cherished by Laverna, his loving wife of 51 years; his children: Kim (Jason) Kehler and Candace (Tom) Eschuk; grandchildren: Britni and Jillian Griffith Kehler and Tyree and Liam Griffith-Eschuk; his brother Ted (Margaret) Griffith; sisters: Ruth Hardy and Jean (Bob) Klatt; and many nieces and nephews, who were very special to him.
He was predeceased by his parents Albert and Helene Griffith; brother Lenard; niece and Godchild Diane (Klatt) Parks; in-laws Diedrich and Lizzie Dueck; and brothers-in-law: Ernie, Ervin, Melvin, and Daniel.
A Memorial Service will be held on Thursday, June 5, 2014 at 2:00 p.m. at Birchwood Funeral Chapel, Steinbach, MB.
In lieu of flowers donations can be made to Joy Lutheran Church, 2-50 Barnes Street, Wpg, Mb., or the Carcinoid Neuroendricrine Tumour Society Canada , 4103-3219 Young Street, Toronto Ontario, M4N 3S1.
We would like to extend our thanks for all the prayers, compassion and support from family and friends. A special thanks to Pastor Ed Mitchler, Sherry Loat and Family, Dr. B Sharkey, the staff at 4-N Victoria General Hospital, Dr. Ralph Wong and Staff at Cancer Care St. Boniface Hospital, and Edmonton and London Cancer Care.
"Don't let your hearts be troubled. Trust in God and trust also in Me. There is more than enough room in My Father's home. If this were not so, would I have told you that I'm going to prepare a place for you? When everything is ready, I will come and get you, so that you will always be with Me where I am. And you know the way I am going."