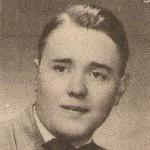 Suddenly October 2, 1978 at a hospital in Asuncion, Paraguay, Denis Kehler, age 42, of Colony Bergthal, Paraguay, formerly of Manitoba.
Funeral services were held October 4 in Colony Bergthal and a memorial service was held in the Steinbach Chortitzer Church on October 22, 1978.
Mr. Kehler, who was married to the former Helena Pries, is survived by his wife, three sons, three daughters.
Also, his parents Jacob & Elizabeth Kehler of Elmdale Drive, Steinbach, one grandchild and one son-in-law. He was predeceased by his daughter Carol in 1958. Continue reading "Denis Doerksen Kehler (1935-1978)"