An 83-year-old Korean War veteran, Bert Wiebe, from Abbotsford who had his scooter stolen on Friday is back in the saddle thanks to a local company's donation.
"I'd like to thank them very gratefully," said Bert Wiebe. "I'm overwhelmed that the response came so quick."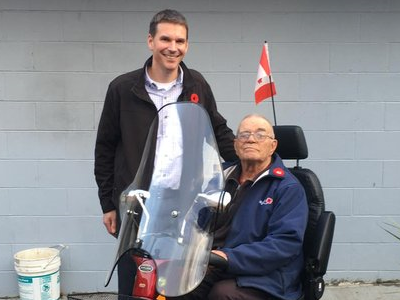 On Monday Abbotsford police said they had received five scooter offers in about two hours after they released information about the theft
The $5,000 scooter was Wiebe's main mode of transportation, and his mobility was severely hampered without it.
"I didn't think anybody would be as low as that. It's my only way of getting around," said Wiebe.
On Tuesday, Chris Kehler, president of Coast Bathing Solutions, offered Wiebe a $6,000 scooter that the company had in its possession
"We're thrilled to help out. It's not about us. It's about Mr. Wiebe and our vets, and making sure they're taken care of," he said.
Kehler said his family history motivated him to help — his uncle was also a Korean War veteran.
"I know the sacrifice that he made, and that Mr. Wiebe made, so we thought it was the least we could do to help out," he said.
Kehler said his company, which sells bathing facilities for seniors, is also setting up a campaign to raise $15,000 to buy three scooters to donate to the Abbotsford Legion for Christmas.
Meanwhile, Abbotsford police are looking for a man named "Kevin" who they have named as a person of interest.
"I'm really shocked because I met him a few times and he pretended to be a friend, and he was going to fix my headlight on my scooter," said Wiebe.
"He asked for my keys to test the wiring — that's the last I've seen of him."
Kevin is described as a Caucasian man in his 40s, five feet eight inches tall, with short brown hair.
Chris Kehler is the grandson of (the late) Cornelius S & (the late) Frieda Kehler, and son of Lee Kehler.