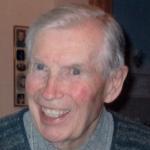 After a period of failing health, our dear husband, father and grandfather, Isaac Giesbrecht passed away peacefully at the age of 84 years at the Victoria Hospital in Winnipeg.
Isaac will be sadly missed by his wife of 60 years Maria, his sons Douglas, George (Valerie) and Gregory (Sandra), daughter Rhonda (Neil), Darcy Douglas and his grandchildren, Jonathan, Mercedes and Geoffrey, family friends Kim and Roli Brakop and Rebecca Hunt, one sister Anne (Peter) Kehler and one brother Ben (Nina) Giesbrecht, sisters in-law Helen (Abe) Giesbrecht, Mary (John) Giesbrecht and brother in-law Garnet (Margaret) Reimer.
He was pre-deceased by his parents Abraham and Anna (nee Braun) Giesbrecht, three sisters and six brothers.
Isaac was born in Barkfield, Manitoba, the ninth child of twelve. Like many in his generation, his childhood and youth were times of hardship and poverty. Particularly difficult was the loss of his father at the age of 10 and the ensuing hardships his family faced. These experiences shaped his life.
Isaac met Maria in Steinbach, Manitoba and they were married on October 2, 1949. They were blessed with four children. During their early married life Isaac worked in Pine Falls and Great Falls on hydro dam projects. In 1954 they moved to Winnipeg and he began employment with Westburne (formerly Amesco) Electrical Supply where he worked for 34 years until his retirement in 1988.
Isaac was challenged with ill health many times in his life but repeatedly demonstrated his strength and willpower to overcome adversity without complaint. His faith sustained him through these difficult times.
Isaac loved nature. His favourite Manitoba places for a walk and a picnic with Maria and the family were Bird's Hill Park, the Whiteshell, Clear Lake and Spruce Woods Park. Many happy hours were spent enjoying these places. Dad loved road trips. Getting out to the mountains and the west coast to visit his sons were favourite destinations. Trips to Florida, Hawaii and California were highlights of his life.
A celebration of Isaac's life will be held on Thursday, May 20, 2010 at 1:00 p.m. at Grant Memorial Baptist Church, 877 Wilkes Avenue, Winnipeg. Interment to follow at the Heritage Cemetery at 5:00 p.m. (Loewen Blvd. Steinbach, Manitoba).