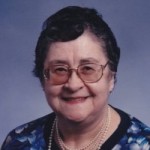 Henritte Louise Rose Kehler (nee McGrath) February 5, 1931 – March 15, 2006. Passed away peacefully, surrounded by her loving children, at the age of 75 years, at the Surrey Memorial Hospital on Mar. 15, 2006. She leaves to mourn her loving husband John , of 54 years.
Hetty is survived by her last living sibling, Nellie Haganbuck, 80 years old, of Coquitlam, BC. She will be sadly missed by her daughters Betty (Keith) Sanderson of Tulameen, BC, Shirley (Howard) Morneau of Langley, BC, her sons Curtis Kehler of Surrey, BC, and Tom (Brenda) Kehler of Surrey, BC. Hetty was a loving mother and wife who will be remembered for her lively personality and caringness to her children and grandchildren Michael, Darrin, Melissa, John, J., Hailey, Cheryl, Christopher, Matthew, Adam and Amber, as well as 5 great-grandchildren. Hetty was an avid bowler in earlier years as well as a devoted wife and homemaker who loved to cook. She did her best to overcome her diabetes and other physical challenges that were with her in life. Special thanks to the nurses in the ICU at the S.M.H. for their caring and compassion. A Memorial Service will be held on Tuesday, March 21 at 2:00 p.m. at the Valley View Memorial Gardens in the Arbor Chapel located at 14660 72nd Avenue, Surrey, BC.
View photos of the Henritte McGrath Kehler Memorial Service here.