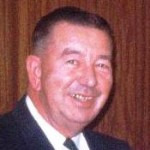 Clarence Gayhart Olson was born to his parents, Ole L. Olson and Ingeborg Hagen, on May 9, 1907 at Middle River, Minnesota.  His parents had emigrated from Norway some years ago, were married and settled down on a farm at Middle River. Clarence grew up as one of eight children, 4 boys and 4 girls. He attended school and graduated from the local high school as a bright student with a great future in this country of freedom and opportunity.
In the 1930's he began working for Allis-Chalmers as a salesman. He acquired his pilot's license which helped him to become a very successful salesman and manager. His idea was to satisfy customers honestly and efficiently. This was he worked for 35 years before he retired in 1969 due to illness. This was one year after I, Louise (Reimer) Giesbrecht married him on September 26, 1968. From a previous marriage, he had one daughter and then adopted another daughter and a son.
With our marriage, he accepted my three children. After 14 years, as a manager in Winnipeg, he decided to retire in Rosenort in order to be close to our relatives and attend our Mennonite church. He had grown up in a religious family and had in the past been active in the Lutheran church work.
We were married approximately one year when he noticed a change in his health. It was a slow process and the doctors finally diagnosed Parkinson's disease. This is basically a disorder of the nervous system which slows down the voluntary muscles and makes them rigid. There seems to be no apparent cause and, of course, no cure. This was a terrible realization for him, but the fine gentleman he had always been and a sound faith in God, helped him to accept his condition. There was just never any complaint. He would never put the blame on anybody including God. For almost 7 years he helped me in the restaurant and always claimed that those years were the best ones in his life. His health slowly deteriorated and nearly five years ago he had to be hospitalized, mainly in Morris and the Lodge, where he always received the best of care. He sincerely appreciated visitors and never complained to them. Many a time my Dad saw him and talked to him although he was not able to respond very clearly, and Dad would pray for him and he loved it so much.
He passed away peacefully at the Morris hospital, on December 28, 1981 at noon. He was predeceased by his son, Gary, about 2 years ago; also by his brothers Louis, Arthur and the younger one, Omar, about a year ago, which pained him very much. Further, he was predeceased by three sisters; Bertha Nelson, Gaya Morris, and lately Elma Dahl.
He leaves to mourn: his wife Louise, his daughters Dr. Kaye Eileen from Seattle, Washington, Jeanne Olson from Spokane, Washington, the children, Beverly Efthymiadis and her husband Theo, Bonnie Friesen and her husband Russell, Nelson Giesbrecht and 4 grandchildren. Then there is his only living sister Myrtle and her husband Albert Swanson, sister-in-law Lorraine and others including nieces and nephews, and many friends and relatives. I, Louise, his loving wife, will never forget a caring and loving husband. The family is also very thankful for the loving care Clarence received during the years he spent in the hospital and nursing home.
We mourn, but not as such who have no hope!
"Blessed is the man who endures trial, for when he has stood the test he will receive the crown of life which God has promised to those who love Him" James 1:12