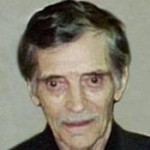 On November 17, 2011 Leonard George Unger passed away peacefully with his family by his side, at the Bethesda Hospital in Steinbach. Leonard was born April 4, 1928 to Jacob and Aganetha Unger of Steinbach.
Left to cherish his memory is his beloved wife of 60 years Helen, his children Pete (Carla) and Pat (Leo); sister Norma (Harry), his brothers and sisters-in-law; as well as many nieces and nephews. He was predeceased by his parents.
The family wishes to thank the homecare staff and Bethesda Hospital staff. A special thanks to Cheryl Murray for her loving care and attention to Dad in his final days. You gave great comfort to Leonard and his family.
Viewing will be held at Birchwood Funeral Chapel in Steinbach on Monday, November 21 at 7:00 p.m. with a devotional at 7:30 p.m. The funeral service will be held Tuesday, November 22 at 1:30 p.m. at the Chortitzer Mennonite Church, 479 Hanover, Steinbach with Rev. John Rempel officiating. Interment at the Rosengard Cemetery.
As an expression of sympathy, if friends so desire donations may be made in Leonard's memory to the MS Society, 100-1465 Buffalo Place, Winnipeg, MB R3T 1L8